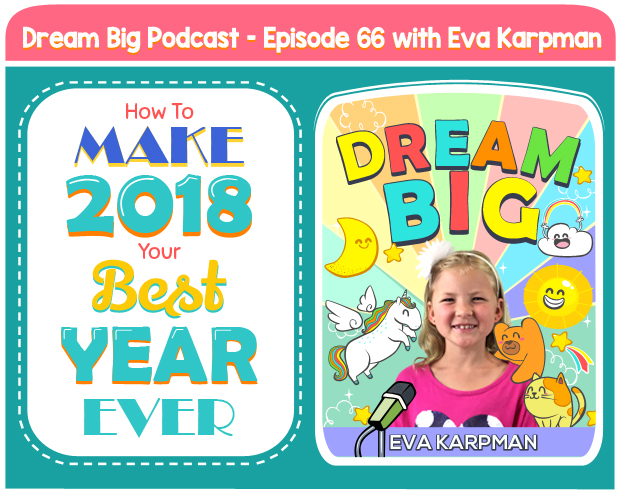 Share this: 
LISTEN TO OUR PODCAST
Subscribe and listen to the DREAM BIG Podcast on:
iTunes  |  Stitcher  |  Google Play Music  |  Soundcloud  |  iHeartRadio  |  Spotify
SOLO EPISODE FROM EVA
Happy New Year Big Dreamers!  Last week's regularly scheduled podcast fell on Christmas.  And this week, it falls on New Year's Day.  It is hard to believe 2017 is now in the past, and 2018 is here.  We are committed to making 2018 the best year ever, and want to share the process we went through as a family to celebrate what was great about 2017 and how we can make 2018 our best year yet.  
In this solo episode, Eva shares the 3-step process we took as a family to make our 2018 resolutions.  It was actually a lot of fun, and only took us about an hour to complete.  Eva also shares some great tips on how to make sure you actually follow through with your resolutions.
THIS WEEK'S RHYME
Make sure you listen to the full episode for context:
To make 2018 your best year ever, follow this 3 step plan.
And you will see incredible results in the next 12-month span.
Step 1 is to look back at all you achieved in 2017 and celebrate.
Think about all your successes — all the things that you did great.
Step 2 is to come up with your resolutions, I would recommend just three.
Using the SMART framework for goal setting here is key.
Step 3 is to share your progress weekly with your family.
That way you can stay on track, and if necessary shift your strategy.
Follow this framework Big Dreamers and your resolutions will become real.
Just think about how amazing that will feel.
RESOURCES
SPREADING THE LOVE!
We love to thank our friends who spread the love about the Dream Big Podcast. Click the link below to see what was said about our show, and get lost in the amazing content throughout their site 🙂
Tech YaYa is a tech blog highlighting the latest social media, tech and start-ups for curious and enterprising readers who want to stay one step ahead of the game. We loved that we were featured in an article on the Top 20 Family Podcasts.
BECOME A DREAM BIG INSIDER
THANK YOU FOR LISTENING — SUBSCRIBE & LEAVE A HONEST REVIEW. GET FREE PERSONALIZED STICKERS!
To get Dream Big episodes sent directly to your device as they are published, you can subscribe:
Subscribe and listen to the DREAM BIG Podcast on:
iTunes  |  Stitcher  |  Google Play Music  |  Soundcloud  |  iHeartRadio  |  Spotify
If you received value from our podcast, we would greatly appreciate if you could take a minute to leave us a review on iTunes review on iTunes here. This helps us get more exposure for the podcast and in turn allows us to inspire more people to dream big. We read each and every review and are so grateful to our listeners who have taken the time to write us one. For a limited time only, as a way to say thank you for taking the time to leave an honest review, we will mail you 48 free personalized stickers! Follow the instructions at DreamBigPodcast.com/bonus to get your free stickers!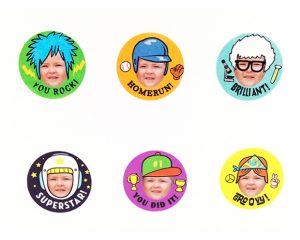 Thanks again for all of your amazing support.
Share this: