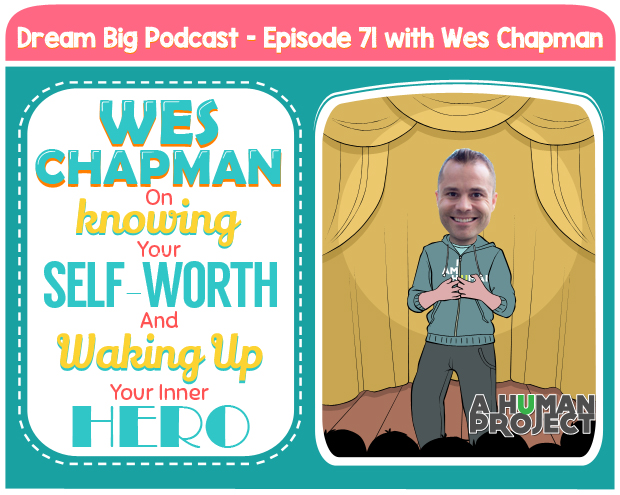 Share this: 
LISTEN TO OUR PODCAST
Subscribe and listen to the DREAM BIG Podcast on:
iTunes  |  Stitcher  |  Google Play Music  |  Soundcloud  |  iHeartRadio  |  Spotify
TODAY'S GUEST
This week, Eva and Olga are excited to have Wes Chapman on the Dream Big Podcast. Despite Wes' terrifying childhood – being abandoned by his parents at age 6, abused and  forgotten, Wes has shown how you can overcome any obstacle and make the world a better place. Wes is the founder of "A Human Project,"  an organization that empowers youth to learn how to create their own self-worth and rise above their circumstances. His organization has directly impacted the lives of more than 65,000 youth in 14 countries. He also co-hosts his own podcast called "The Human Project Podcast."
In this episode, Wes shares why he became an advocate for humanity. He truly inspired us, and we're sure that you'll be inspired as well once you hear his story.
WHAT YOU'LL LEARN
Wes describes what his childhood was like – being abandoned by his parents when he was only 6 years old.

Wes gives some practical advice for everyone who does not have support at home.

Wes explains why it's important that you should go through life not proving your doubters wrong, but instead proving yourself right.  

Wes elaborates on the meaning of his quote "Put the victim to bed — Wake the Hero Up Instead."

Wes shares how he started his organization, A Human Project, and how it has changed the lives of more than of 65,000 youths.

Wes' advice to his 10-year old self.

Wes' BIG DREAM for the future.

And so much more!
RESOURCES
SPREADING THE LOVE!
Thank you to our friends who recently helped spread the love about the Dream Big Podcast.  Click the links below to see what they had to say about our show, and get lost in the amazing content throughout their sites 🙂
Baby Chick

– Baby Chick is a pregnancy and motherhood resource for the modern mom. They provide an empowering, educational and uplifting experience to expectant women and mothers by giving them helpful information so that they can make informed decisions for themselves and their family. We loved that Nina included the Dream Big Podcast in her amazing post on

Tips and Tricks I've Learned Parenting My Introverted Child

.  This is a truly stand-out blog.  Please be sure to check it out.

Family Focus Blog– The Family Focus Blog is is a place where Scarlet shares parenting tips, family fun activities, eco tips, family food ideas, family travel, and home decor. Her goal is to inspire people, entertain people, and help people. The family Focus Blog has been named #3 in Cision PR's 50 U.S. Top Mom Blog list. We were thrilled that she included us in a post entitled:  How To Make Hot Air Balloon Decorations
CLAIM YOUR FREE DREAM BIG JOURNAL

We are currently offering a FREE & PERSONALIZED Dream Big Journal to say thank you for supporting our show.  Click the link above to claim your journal while this special offer is still available.
BECOME A DREAM BIG INSIDER
THANK YOU FOR LISTENING — SUBSCRIBE & LEAVE A HONEST REVIEW. GET FREE PERSONALIZED STICKERS!
To get Dream Big episodes sent directly to your device as they are published, you can subscribe:
Subscribe and listen to the DREAM BIG Podcast on:
iTunes  |  Stitcher  |  Google Play Music  |  Soundcloud  |  iHeartRadio  |  Spotify
If you received value from our podcast, we would greatly appreciate if you could take a minute to leave us a review on iTunes review on iTunes here. This helps us get more exposure for the podcast and in turn allows us to inspire more people to dream big. We read each and every review and are so grateful to our listeners who have taken the time to write us one. For a limited time only, as a way to say thank you for taking the time to leave an honest review, we will mail you 48 free personalized stickers! Follow the instructions at DreamBigPodcast.com/bonus to get your free stickers!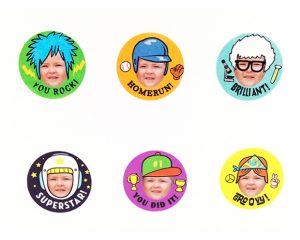 Thanks again for all of your amazing support.
Share this: