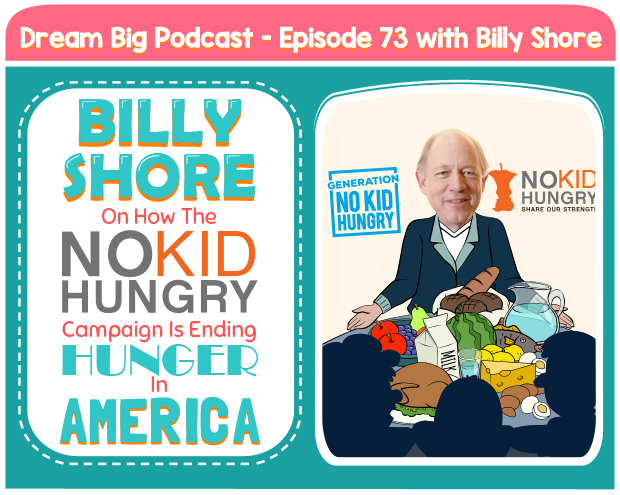 Share this: 
LISTEN TO OUR PODCAST
Subscribe and listen to the DREAM BIG Podcast on:
iTunes  |  Stitcher  |  Google Play Music  |  Soundcloud  |  iHeartRadio  |  Spotify
TODAY'S GUEST
This week, Eva and Olga are proud to welcome Billy Shore to the Dream Big podcast.  Billy is the executive chairman of Share Our Strength, the anti-hunger organization that created the No Kid Hungry campaign.  Since founding Share Our Strength in 1984 with his sister Debbie, Billy has led the organization in raising more than $600 million to fight hunger and poverty, and has won the support of national leaders in business, government, health and education, sports and entertainment.
The No Kid Hungry campaign has a BIG DREAM… to makes sure that every single child in America has the food they need to grow up healthy and strong.  As we always discuss on the podcast, big dreams alone are not enough.   Massive action is necessary to make a dream like this reality, and Share Our Strength is making extraordinary progress as Billy will share in this episode.   Billy's energy is contagious and it is clear that he and his team will not stop until the campaign is successful in ending child hunger in America.  
WHAT YOU'LL LEARN
Billy shares some shocking statistics on child hunger in the US, and the negative impact on kids when they are suffering from hunger.

Why Billy started the organization, Share Our Strength, with his sister.

Why we should always be grateful for the things we have, and not take basic necessities for granted.

Billy shares what the No Kid Hungry campaign is all about and how you can help!

Billy shares what his podcast, Add Passion and Stir, is all about.

How Billy was a picky-eater as a child.

Billy's advice to his 10-year old self.

Billy shares his  greatest achievement so far.

How Billy overcame rejections and his fears.

What Billy does for fun with his family.

Billy's BIG DREAM for the future.

Billy's advice on how you can help end hunger in the US.

And so much more!
RESOURCES
CLAIM YOUR FREE DREAM BIG JOURNAL

We are currently offering a FREE & PERSONALIZED Dream Big Journal to say thank you for supporting our show.  Click the link above to claim your journal while this special offer is still available.
BECOME A DREAM BIG INSIDER
THANK YOU FOR LISTENING — SUBSCRIBE & LEAVE A HONEST REVIEW. GET FREE PERSONALIZED STICKERS!
To get Dream Big episodes sent directly to your device as they are published, you can subscribe:
Subscribe and listen to the DREAM BIG Podcast on:
iTunes  |  Stitcher  |  Google Play Music  |  Soundcloud  |  iHeartRadio  |  Spotify
If you received value from our podcast, we would greatly appreciate if you could take a minute to leave us a review on iTunes review on iTunes here. This helps us get more exposure for the podcast and in turn allows us to inspire more people to dream big. We read each and every review and are so grateful to our listeners who have taken the time to write us one. For a limited time only, as a way to say thank you for taking the time to leave an honest review, we will mail you 48 free personalized stickers! Follow the instructions at DreamBigPodcast.com/bonus to get your free stickers!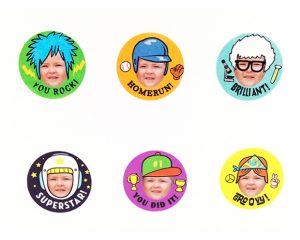 Thanks again for all of your amazing support.
Share this: