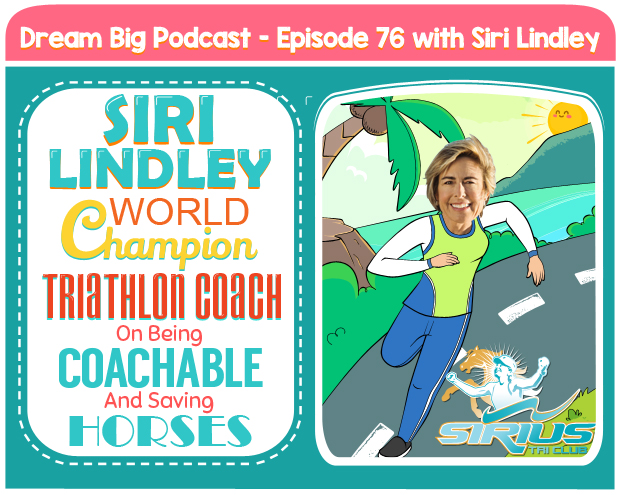 Share this: 
LISTEN TO OUR PODCAST
Subscribe and listen to the DREAM BIG Podcast on:
iTunes  |  Stitcher  |  Google Play Music  |  Soundcloud  |  iHeartRadio  |  Spotify
TODAY'S GUEST
Siri Lindley is a World Champion Triathlon Coach and Motivational Speaker who dominated the International Triathlon Union (ITU) World Rankings, winning 13 World Cup races between 2000-2002 and was the 2001 ITU World Champion. She won the World Cup Series both years by being the #1 ranked triathlete in the world!  Having achieved all of her goals in professional triathlon competition, Siri began coaching in 2003.
In this episode, Siri talks about how being an athlete made her a better coach. She also talks about her passion of rescuing horses and dogs — which she is accomplishing with her non-profit "Believe Ranch and Rescue."   Eva is a huge horse and dog lover, so she really hit it off with Siri and we hope to remain friends in the years to come.  
WHAT YOU'LL LEARN
Siri's childhood and why she loved being outdoors.

Siri talks about

Believe Ranch and Rescue

– the non-profit organization she started with her partner.

The sad reality that many horses are neglected and need loving homes — and how she is connected horses with loving families through

Believe Ranch and Rescue.

How coaching helps Siri in her life and how being an athlete helped her become a better coach.

Siri gives advice on what qualities you need to look for in a coach.

Siri shares what it means to be coachable – and why it's such an important quality.

Siri gives advice on how you can get out of your comfort zone, and handle the challenges that scare you.

Siri shares how you can deal with the voice in your head that is telling you to stop and just give up.

Siri shares why she pushed herself to be a world triathlon champion.

Siri's advice to her 10-year old self.

Siri's BIG DREAM for the future!

And so much more!
RESOURCES
CLAIM YOUR FREE DREAM BIG JOURNAL

We are currently offering a FREE & PERSONALIZED Dream Big Journal to say thank you for supporting our show.  Click the link above to claim your journal while this special offer is still available.
BECOME A DREAM BIG INSIDER
THANK YOU FOR LISTENING — SUBSCRIBE & LEAVE A HONEST REVIEW. GET FREE PERSONALIZED STICKERS!
To get Dream Big episodes sent directly to your device as they are published, you can subscribe:
Subscribe and listen to the DREAM BIG Podcast on:
iTunes  |  Stitcher  |  Google Play Music  |  Soundcloud  |  iHeartRadio  |  Spotify
If you received value from our podcast, we would greatly appreciate if you could take a minute to leave us a review on iTunes review on iTunes here. This helps us get more exposure for the podcast and in turn allows us to inspire more people to dream big. We read each and every review and are so grateful to our listeners who have taken the time to write us one. For a limited time only, as a way to say thank you for taking the time to leave an honest review, we will mail you 48 free personalized stickers! Follow the instructions at DreamBigPodcast.com/bonus to get your free stickers!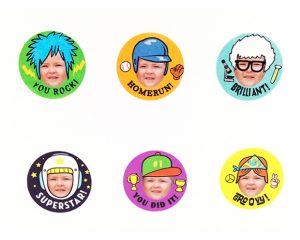 Thanks again for all of your amazing support.
Share this: