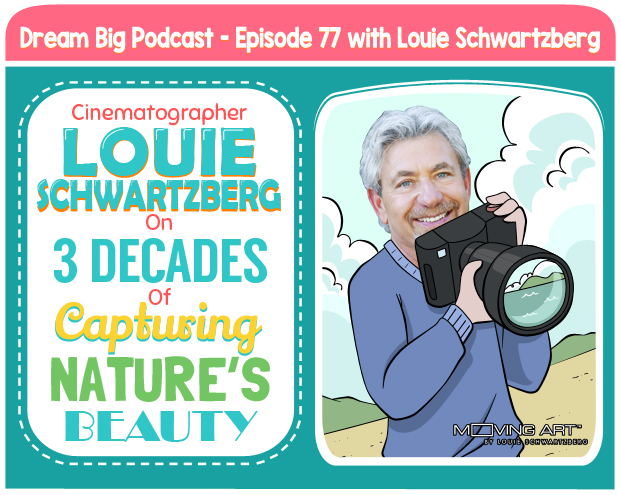 Share this: 
LISTEN TO OUR PODCAST
Subscribe and listen to the DREAM BIG Podcast on:
iTunes  |  Stitcher  |  Google Play Music  |  Soundcloud  |  iHeartRadio  |  Spotify
TODAY'S GUEST
Louie Schwartzberg is an award-winning producer, director and cinematographer whose notable career spans more than three decades providing breathtaking imagery for feature films, television shows, documentaries and commercials.
As the only filmmaker in the world who has been shooting time-lapse 24/7 continuously for well over three decades, Louie is a visual artist breaking barriers, connecting with audiences, and telling stories that celebrate life and reveal the mysteries and wisdom of nature, people and places.
His recent theatrical releases include the 3D IMAX film "Mysteries of the Unseen World" with National Geographic, narrated by Forest Whitaker, and "Wings of Life," a feature-length documentary for Disneynature, narrated by Meryl Streep.
In addition to his feature films, Louie also curates Moving Art™, the world's first collection of 2D and 3D moving images created as fine art for digital screens, from nature to cityscapes to visual effects.
WHAT YOU'LL LEARN
At what point Louie realized that he wanted to be a photographer/filmmaker.

Why Louie believes nature is the best teacher in the world.

How Louie invented his own tools in capturing the beauty of nature.

Louie explains how "beauty is nature's tool for survival."

Louie shares the evolution of technology in his films, including the difference between HD and 4K.

Louie gives advice on everyone who wants to start shooting timelapses.

What Louie's project "Gratitude Revealed" is all about.

Louie's most embarrassing moment.

Louie's proudest moment in life.

The thing that Louie loves to do when he's not filming.

What Louie does every morning when he wakes up.

Louie's advice to his 10-year old self.

How Louie overcome his fears in life.

Louie's BIG DREAM for the future!

Louie gives advice to all the big dreamers who want to be a cinematographer.

And so much more!
RESOURCES
CLAIM YOUR FREE DREAM BIG JOURNAL

We are currently offering a FREE & PERSONALIZED Dream Big Journal to say thank you for supporting our show.  Click the link above to claim your journal while this special offer is still available.
BECOME A DREAM BIG INSIDER
THANK YOU FOR LISTENING — SUBSCRIBE & LEAVE A HONEST REVIEW. GET FREE PERSONALIZED STICKERS!
To get Dream Big episodes sent directly to your device as they are published, you can subscribe:
Subscribe and listen to the DREAM BIG Podcast on:
iTunes  |  Stitcher  |  Google Play Music  |  Soundcloud  |  iHeartRadio  |  Spotify
If you received value from our podcast, we would greatly appreciate if you could take a minute to leave us a review on iTunes review on iTunes here. This helps us get more exposure for the podcast and in turn allows us to inspire more people to dream big. We read each and every review and are so grateful to our listeners who have taken the time to write us one. For a limited time only, as a way to say thank you for taking the time to leave an honest review, we will mail you 48 free personalized stickers! Follow the instructions at DreamBigPodcast.com/bonus to get your free stickers!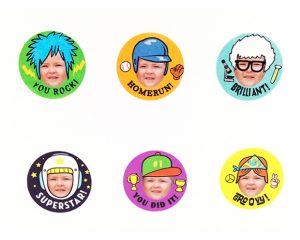 Thanks again for all of your amazing support.
Share this: