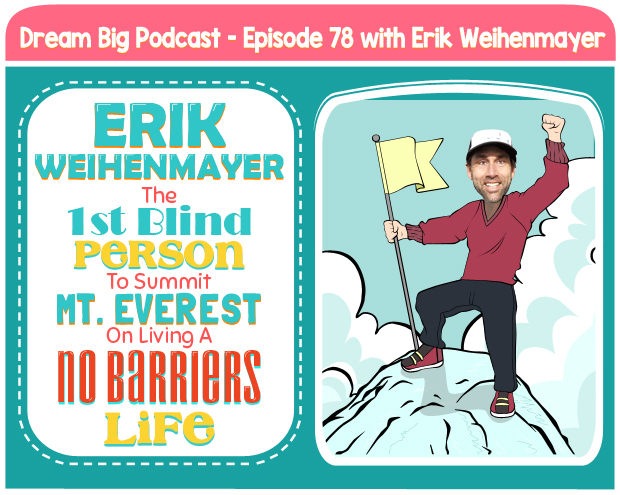 Share this: 
LISTEN TO OUR PODCAST
Subscribe and listen to the DREAM BIG Podcast on:
iTunes  |  Stitcher  |  Google Play Music  |  Soundcloud  |  iHeartRadio  |  Spotify
TODAY'S GUEST
Erik Weihenmayer lost his vision by the age of 13, but he resisted the idea that blindness would sweep him to the sidelines of life. He established himself as a formidable wrestler in high school, representing his home state of Connecticut in the National Junior Freestyle Wrestling Championship in Iowa. As a teenager, he also discovered rock climbing and a natural dexterity for the tactile aspects of scanning the rock with his hands and feet for holds.
He became the only blind person to reach the summit of Mt. Everest on May 25, 2001. In 2008 he climbed Carstensz Pyramid on the island of Papua New Guinea, completing the Seven Summits, the highest point on every continent.  This accomplishment closed the circuit on a 13-year journey that had begun with his 1995 ascent of Denali.
Erik also co-founded a movement called No Barriers. The mission is to help people with challenges, all of us to some extent, to turn into the storm of life, face barriers head on, embrace a pioneering and innovative spirit and team up with great people to live rich in meaning and purpose. The motto is "what's within you is stronger than what's in your way." To this aim, Erik continues to challenge himself to live a No Barriers Life and, in September 2014, he kayaked the entire 277-miles of the Colorado River through the Grand Canyon.

WHAT YOU'LL LEARN
When Erik lost his vision, and how he reacted to it when it happened.

How wrestling in high school and being a part of the wrestling team helped him gain his confidence back.

How Erik discovered his love for rock climbing and how that turned from a hobby into a quest to conquer the world's tallest peaks.

How Erik trained to climb Mount Everest.

How Erik felt when he reached the top of Mount Everest.

How Erik deals with barriers that come his way.

Erik shares some of his daily rituals.

Erik's proudest moment in life so far.

Erik's advice to his 8-year old self.

Erik's BIG DREAM for the future.
RESOURCES
SPREADING THE LOVE!
Thank you to our friends who recently helped spread the love about the Dream Big Podcast.  Click the links below to see what they had to say about our show, and get lost in the amazing content throughout their sites 🙂
Raising Arrows

 – Amy Roberts of RaisingArrows.net is a Christ-follower, devoted wife, homeschooling mother of 10, blogger, conference speaker, podcaster, and author.  Amy inspires the hearts of weary, overwhelmed moms across the world as she offers practical and encouraging advice to help simplify the path and enjoy the journey of homemaking, homeschooling, marriage, and mothering. Enjoy:

How to Parent High Maintenance Children

Messy Mom

– Messy Mom is a parenting blog that makes the best of what looks like a mess! Natalie Busch writes about her life as mom with 4 kids. She shares some practical tips for motherhood along with humorous and heartfelt stories about having a large family in a small space and an even smaller budget. You can join in on the mess via Facebook, Instagram, Twitter, and YouTube.  Enjoy:

Messy Mom's FAVORITE Podcasts
CLAIM YOUR FREE DREAM BIG JOURNAL

We are currently offering a FREE & PERSONALIZED Dream Big Journal to say thank you for supporting our show.  Click the link above to claim your journal while this special offer is still available.
BECOME A DREAM BIG INSIDER
THANK YOU FOR LISTENING — SUBSCRIBE & LEAVE A HONEST REVIEW. GET FREE PERSONALIZED STICKERS!
To get Dream Big episodes sent directly to your device as they are published, you can subscribe:
Subscribe and listen to the DREAM BIG Podcast on:
iTunes  |  Stitcher  |  Google Play Music  |  Soundcloud  |  iHeartRadio  |  Spotify
If you received value from our podcast, we would greatly appreciate if you could take a minute to leave us a review on iTunes review on iTunes here. This helps us get more exposure for the podcast and in turn allows us to inspire more people to dream big. We read each and every review and are so grateful to our listeners who have taken the time to write us one. For a limited time only, as a way to say thank you for taking the time to leave an honest review, we will mail you 48 free personalized stickers! Follow the instructions at DreamBigPodcast.com/bonus to get your free stickers!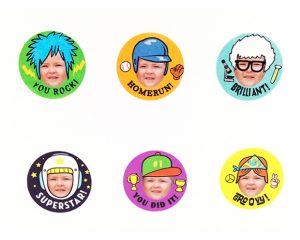 Thanks again for all of your amazing support.
Share this: