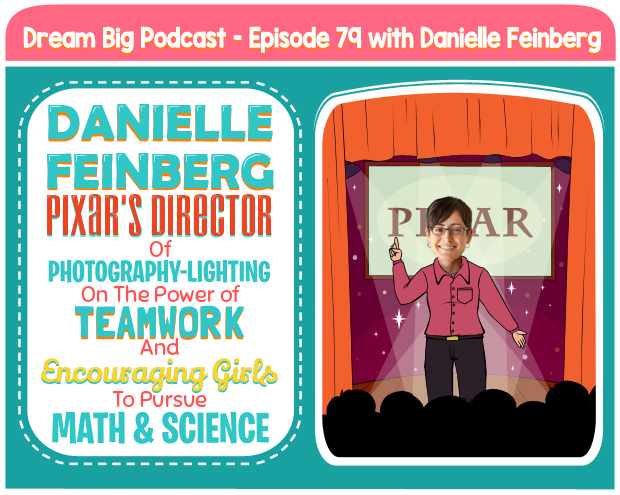 Share this: 
LISTEN TO OUR PODCAST
Subscribe and listen to the DREAM BIG Podcast on:
iTunes  |  Stitcher  |  Google Play Music  |  Soundcloud  |  iHeartRadio  |  Spotify
TODAY'S GUEST
Danielle Feinberg began her career at Pixar Animation Studios in February 1997 and has worked on films such as Toy Story 2, Monsters, Inc., the Academy Award®-winning Finding Nemo and The Incredibles. Feinberg was the director of photography-lighting for the Academy Award®- winning features WALL•E, Brave and Coco, While working on Brave, Marie Claire Magazine named her the "top film techie" in their 2011 Women on Top Awards.
In addition to Danielle's Pixar work, she works with teenage girls, encouraging them to pursue math and science.
WHAT YOU'LL LEARN
Danielle shares the story of being the only girl in 8th grade who signed up for a class where the main assignment was fixing a broken lawn mower.

The percentage of males versus females in Harvard when Danielle was studying computer science.

Danielle share her thoughts on how we can inspire a generation of female leaders in science and technology.

How parents can inspire and help their kids to be interested and love technology.

Danielle shares how and why she started working at Pixar in 1997.

Danielle's role at Pixar.

How technology has changed over the years, and why she is excited about the future of animated films.

Danielle shares how she manages and inspires her lighting team at Pixar.

Danielle's shares her most embarrassing moment.

What Danielle does for fun.

Danielle's advice to her 10-year old self.

How Danielle overcome her fears and doubts.

Danielle's BIG DREAM for the future.

And so much more!
RESOURCES
CLAIM YOUR FREE DREAM BIG JOURNAL

We are currently offering a FREE & PERSONALIZED Dream Big Journal to say thank you for supporting our show.  Click the link above to claim your journal while this special offer is still available.
BECOME A DREAM BIG INSIDER
THANK YOU FOR LISTENING — SUBSCRIBE & LEAVE A HONEST REVIEW. GET FREE PERSONALIZED STICKERS!
To get Dream Big episodes sent directly to your device as they are published, you can subscribe:
Subscribe and listen to the DREAM BIG Podcast on:
iTunes  |  Stitcher  |  Google Play Music  |  Soundcloud  |  iHeartRadio  |  Spotify
If you received value from our podcast, we would greatly appreciate if you could take a minute to leave us a review on iTunes review on iTunes here. This helps us get more exposure for the podcast and in turn allows us to inspire more people to dream big. We read each and every review and are so grateful to our listeners who have taken the time to write us one. For a limited time only, as a way to say thank you for taking the time to leave an honest review, we will mail you 48 free personalized stickers! Follow the instructions at DreamBigPodcast.com/bonus to get your free stickers!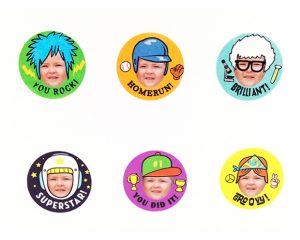 Thanks again for all of your amazing support.
Share this: