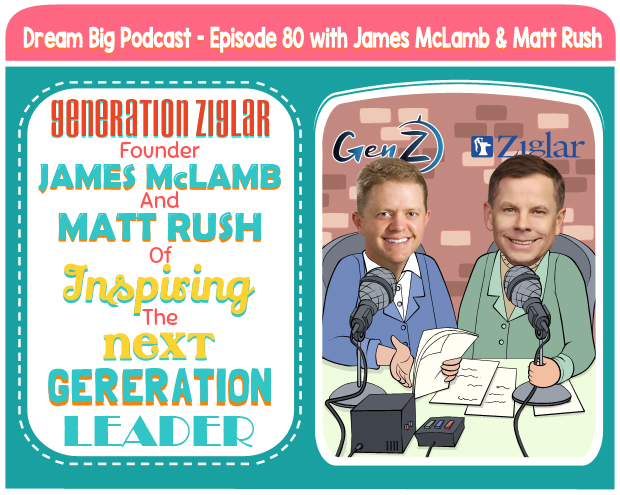 Share this: 
LISTEN TO OUR PODCAST
Subscribe and listen to the DREAM BIG Podcast on:
iTunes  |  Stitcher  |  Google Play Music  |  Soundcloud  |  iHeartRadio  |  Spotify
TODAY'S GUEST
James McLamb and Matt Rush are the founders of Generation Ziglar.  Both are Ziglar Certified Trainers, Ziglar Certified Coaches, and award-winning speakers.  Their mission is to inspire the next generation of leaders to impact future generations. Specifically, Generation Ziglar aims to help our youth overcome their negative self-image, build winning relationships with other people, and set and achieve goals that they cannot even begin to imagine. These are also major goals of the Dream Big Podcast, and with so much in common, we were thrilled to invite James and Matt on our show.
WHAT YOU'LL LEARN
James and Matt share who Zig Ziglar was and how he was able to better the lives of millions of people around the world.

Matt shares how he knew as a kid that he always wanted to be a coach and help so many people.

James shares how you can overcome your fear of public speaking.

How Matt prepares for every talk or public speaking he does.

Matt's favorite thing to do when he's not working.

James' proudest moment in life.

James and Matt share the mission of the Generation Ziglar program and why they started it.

Matt enumerates some of the biggest challenges facing today's youth.

James shares some of the key programs that the Generation Ziglar offer to the youth.

James and Matt shares their advice to their 10-year old selves.

James shares the number one thing you need to do to when setting your goals.

Matt explains how important it is to never compare yourself to others.

James' and Matt's BIG DREAM for the future.

And so much more!
RESOURCES
CLAIM YOUR FREE DREAM BIG JOURNAL

We are currently offering a FREE & PERSONALIZED Dream Big Journal to say thank you for supporting our show.  Click the link above to claim your journal while this special offer is still available.
BECOME A DREAM BIG INSIDER
THANK YOU FOR LISTENING — SUBSCRIBE & LEAVE A HONEST REVIEW. GET FREE PERSONALIZED STICKERS!
To get Dream Big episodes sent directly to your device as they are published, you can subscribe:
Subscribe and listen to the DREAM BIG Podcast on:
iTunes  |  Stitcher  |  Google Play Music  |  Soundcloud  |  iHeartRadio  |  Spotify
If you received value from our podcast, we would greatly appreciate if you could take a minute to leave us a review on iTunes review on iTunes here. This helps us get more exposure for the podcast and in turn allows us to inspire more people to dream big. We read each and every review and are so grateful to our listeners who have taken the time to write us one. For a limited time only, as a way to say thank you for taking the time to leave an honest review, we will mail you 48 free personalized stickers! Follow the instructions at DreamBigPodcast.com/bonus to get your free stickers!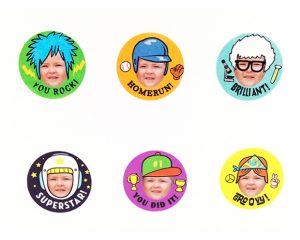 Thanks again for all of your amazing support.
Share this: