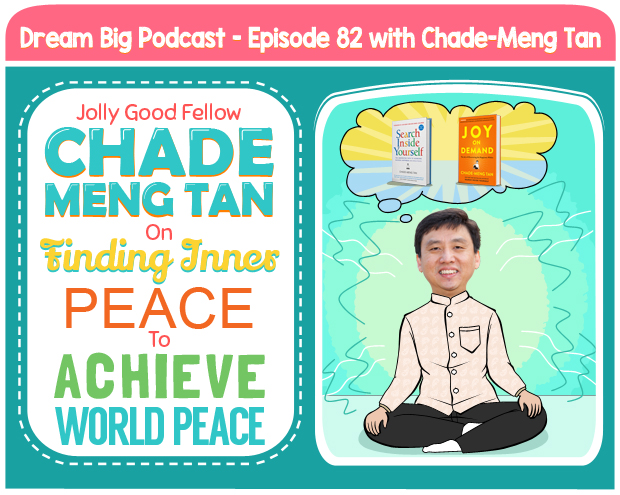 Share this: 
LISTEN TO OUR PODCAST
Subscribe and listen to the DREAM BIG Podcast on:
iTunes  |  Stitcher  |  Google Play Music  |  Soundcloud  |  iHeartRadio  |  Spotify
TODAY'S GUEST
Chade-Meng Tan (Meng) is a Google pioneer, award-winning engineer, international bestselling author, thought leader and philanthropist.  He retired from Google as its Jolly Good Fellow at the age of 45. He is currently the Chairman of the Search Inside Yourself Leadership Institute and Co-chair of One Billion Acts of Peace, which has been nominated eight times for the Nobel Peace Prize.
An accomplished speaker, Meng has delivered a TED talk on compassion at the United Nations and spoke at the White House about the development of kindness. His personal motto is, "Life is too important to be taken seriously."  Meng hopes to see every workplace in the world become a drinking fountain for happiness and enlightenment.
WHAT YOU'LL LEARN
Where Meng grew up and how he became one of the 1st engineers at Google.

How he convinced Google to let him be a "Jolly Good Fellow"

Meng's meeting with Barack Obama and what he considers the highlight of his life so far.

How world peace can be possible in our lifetime, and why he believes achieving world peace starts with people finding their inner peace.

A 5-second exercise on how you can start achieving inner peace.

What it was like to work in Google, and how he was one of the people who started the inner peace program in Google.

Meng explains his personal motto: "Life is too important to be taken seriously."

Meng's favorite practical tips from his bestselling book "Joy On Demand."

Meng's hobbies and what he does for fun.

Meng's daily routine.

Meng's advice to his 10-year old self.

Meng shares the best advice Dalai Lama gave him.

Meng's BIG DREAM for the future!

And so much more!
RESOURCES
BECOME A DREAM BIG INSIDER
DREAM BIG ACADEMY SURVEY – SPECIAL OFFER FOR 1st 100 PEOPLE ONLY
Olga and Eva here. We're VERY close to finishing our long-awaited Dream Big Academy. The academy will be entirely focused on giving kids (ages 4-13) a practical education on the key values to lead a happy, successful life (e.g. self-confidence, positive attitude, gratitude, hustle, etc). Of course, just like the Dream Big Podcast, the key differentiator of the Dream Big Academy is that your kids will be learning about the importance of these principles directly from Eva — one of their peers. We want to get your insight before we finalize the course — and for the first 100 people who complete our Survey  — we will provide our initial set of course materials free of charge. The materials will include engaging video lessons as well as accompanying worksheets — and we truly believe can be a huge game-changer for your child.
THANK YOU FOR LISTENING — SUBSCRIBE & LEAVE A HONEST REVIEW. GET FREE PERSONALIZED STICKERS!
To get Dream Big episodes sent directly to your device as they are published, you can subscribe:
Subscribe and listen to the DREAM BIG Podcast on:
iTunes  |  Stitcher  |  Google Play Music  |  Soundcloud  |  iHeartRadio  |  Spotify
If you received value from our podcast, we would greatly appreciate if you could take a minute to leave us a review on iTunes review on iTunes here. This helps us get more exposure for the podcast and in turn allows us to inspire more people to dream big. We read each and every review and are so grateful to our listeners who have taken the time to write us one. For a limited time only, as a way to say thank you for taking the time to leave an honest review, we will mail you 48 free personalized stickers! Follow the instructions at DreamBigPodcast.com/bonus to get your free stickers!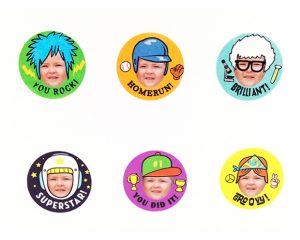 Thanks again for all of your amazing support.
Share this: