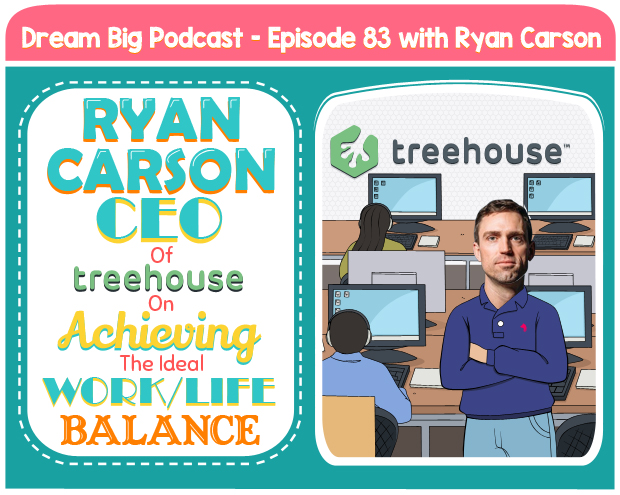 Share this: 
LISTEN TO OUR PODCAST
Subscribe and listen to the DREAM BIG Podcast on:
iTunes  |  Stitcher  |  Google Play Music  |  Soundcloud  |  iHeartRadio  |  Spotify
TODAY'S GUEST
Ryan Carson is the CEO & Founder of Treehouse, an online technology school that takes people from zero experience to job-ready in as little as six months.  He is driven not only to succeed, but to help everyone around him succeed as well. With his tremendously effective work/life balance, Ryan steers the company ship and still makes family time a high priority.  He is a leader and a champion of self-directed learning, inspiring others to take the helm of their own education. As of the time of this publication, Treehouse currently has a library of 222 Courses, with over 27,545 minutes of video learning and over 180,000 students!
WHAT YOU'LL LEARN
What attracted Ryan to the internet and got him excited enough to want to make a career in the internet industry.

How "overnight" success takes years of hard work.

The mission of his incredible company called Treehouse, and what's in store for the future of the company.

Ryan shares why he started a 4-day work week in Treehouse – and how he got that idea.

Ryan's top tips on how you can be a great leader.

What Ryan does when he's not working.

Ryan's advice to his 10-year old self.

Ryan defines what it means to be successful.

And so much more!
RESOURCES
BECOME A DREAM BIG INSIDER
DREAM BIG ACADEMY SURVEY – SPECIAL OFFER FOR 1st 100 PEOPLE ONLY
Olga and Eva here. We're VERY close to finishing our long-awaited Dream Big Academy. The academy will be entirely focused on giving kids (ages 4-13) a practical education on the key values to lead a happy, successful life (e.g. self-confidence, positive attitude, gratitude, hustle, etc). Of course, just like the Dream Big Podcast, the key differentiator of the Dream Big Academy is that your kids will be learning about the importance of these principles directly from Eva — one of their peers. We want to get your insight before we finalize the course — and for the first 100 people who complete our Survey  — we will provide our initial set of course materials free of charge. The materials will include engaging video lessons as well as accompanying worksheets — and we truly believe can be a huge game-changer for your child.
THANK YOU FOR LISTENING — SUBSCRIBE & LEAVE A HONEST REVIEW. GET FREE PERSONALIZED STICKERS!
To get Dream Big episodes sent directly to your device as they are published, you can subscribe:
Subscribe and listen to the DREAM BIG Podcast on:
iTunes  |  Stitcher  |  Google Play Music  |  Soundcloud  |  iHeartRadio  |  Spotify
If you received value from our podcast, we would greatly appreciate if you could take a minute to leave us a review on iTunes review on iTunes here. This helps us get more exposure for the podcast and in turn allows us to inspire more people to dream big. We read each and every review and are so grateful to our listeners who have taken the time to write us one. For a limited time only, as a way to say thank you for taking the time to leave an honest review, we will mail you 48 free personalized stickers! Follow the instructions at DreamBigPodcast.com/bonus to get your free stickers!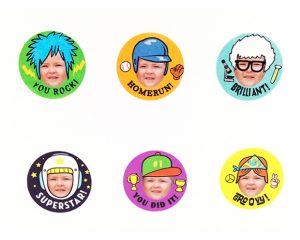 Thanks again for all of your amazing support.
Share this: