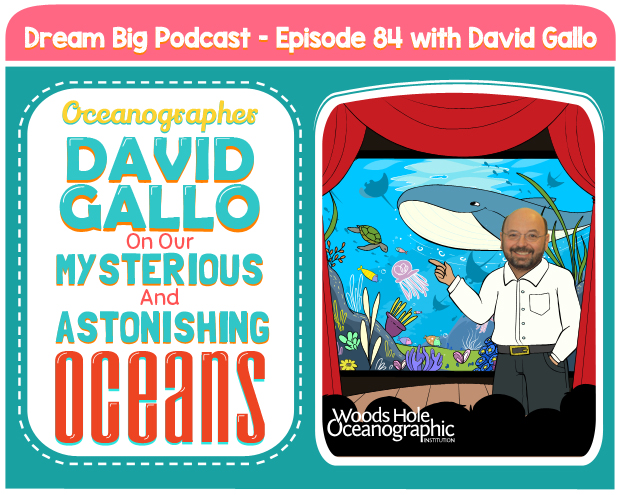 Share this: 
LISTEN TO OUR PODCAST
Subscribe and listen to the DREAM BIG Podcast on:
iTunes  |  Stitcher  |  Google Play Music  |  Soundcloud  |  iHeartRadio  |  Spotify
TODAY'S GUEST
David Gallo works to push the bounds of oceanic discovery. Active in undersea exploration (sometimes in partnership with legendary Titanic-hunter Robert Ballard), he was one of the first oceanographers to use a combination of manned submersibles and robots to map the ocean world with unprecedented clarity and detail. He was a co-expedition leader during an exploration of the RMS Titanic and the German battleship Bismarck, using Russian Mir subs.

WHAT YOU'LL LEARN
When David first fell in love with the ocean.

The shocking statistics of how much of the ocean has been explored.

How lakes are formed in the ocean (yes there are lakes in the Ocean!)

The deepest depth David has been in a submarine, and what that experience was like.

How to find a ship at the bottom of the sea in a massive ocean.

The importance of that historic Titanic and what he has been able to uncover through his expeditions.

The biggest problem the ocean faces right now.

David's daily routines.

David's proudest moment in life.

David's favorite thing to do when he's not working,

David's advice to his 10-year old self.

David's BIG DREAM for the future!

And so much more!
RESOURCES
BECOME A DREAM BIG INSIDER
DREAM BIG ACADEMY SURVEY – SPECIAL OFFER FOR 1st 100 PEOPLE ONLY
Olga and Eva here. We're VERY close to finishing our long-awaited Dream Big Academy. The academy will be entirely focused on giving kids (ages 4-13) a practical education on the key values to lead a happy, successful life (e.g. self-confidence, positive attitude, gratitude, hustle, etc). Of course, just like the Dream Big Podcast, the key differentiator of the Dream Big Academy is that your kids will be learning about the importance of these principles directly from Eva — one of their peers. We want to get your insight before we finalize the course — and for the first 100 people who complete our Survey  — we will provide our initial set of course materials free of charge. The materials will include engaging video lessons as well as accompanying worksheets — and we truly believe can be a huge game-changer for your child.
THANK YOU FOR LISTENING — SUBSCRIBE & LEAVE A HONEST REVIEW. GET FREE PERSONALIZED STICKERS!
To get Dream Big episodes sent directly to your device as they are published, you can subscribe:
Subscribe and listen to the DREAM BIG Podcast on:
iTunes  |  Stitcher  |  Google Play Music  |  Soundcloud  |  iHeartRadio  |  Spotify
If you received value from our podcast, we would greatly appreciate if you could take a minute to leave us a review on iTunes review on iTunes here. This helps us get more exposure for the podcast and in turn allows us to inspire more people to dream big. We read each and every review and are so grateful to our listeners who have taken the time to write us one. For a limited time only, as a way to say thank you for taking the time to leave an honest review, we will mail you 48 free personalized stickers! Follow the instructions at DreamBigPodcast.com/bonus to get your free stickers!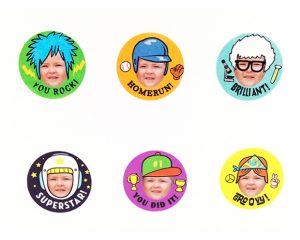 Thanks again for all of your amazing support.
Share this: