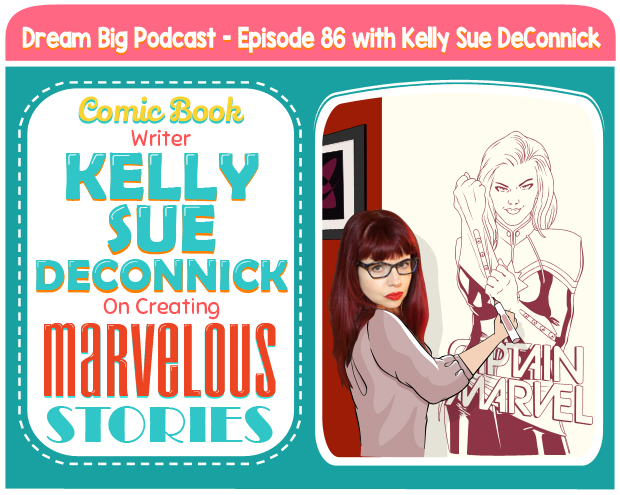 Share this: 
LISTEN TO OUR PODCAST
Subscribe and listen to the DREAM BIG Podcast on:
iTunes  |  Stitcher  |  Google Play Music  |  Soundcloud  |  iHeartRadio  |  Spotify
TODAY'S GUEST
Kelly Sue DeConnick has been credited with drawing female readers back to comic books. She is the writer of many popular comic-book series starring female characters, including most famously the Marvel imprint Captain Marvel.  She writes passionately, both on and off the page, about feminism, female representation, and the need for more female comic-book creators.
WHAT YOU'LL LEARN
Kelly's experience of being in a military family and moving a lot as a child.

Advice for any young big dreamers who find themselves moving often as a result of their parents career.

How Kelly and her family practices the Stoic Philosophy when dealing with anxiety.

What the term "3rd channel" is in the comic book world, and why some people are more inclined to read comic books than fiction books.

Her process when creating the scripts for comic books.

Where Kelly find her inspiration in writing stories for her comic books.

What Kelly does when she gets stuck on a project.

How Kelly uses tarot cards to help her shake up her thinking.

How Kelly and her husband pitch ideas off each other and work together.

Kelly's definition of being a feminist.

Kelly gives some comic book recommendations to all the young big dreamers.

Kelly's BIG DREAM for the future.

And so much more!
RESOURCES
SPREADING THE LOVE!
We are always happy to spread the love to friends who have shared the Dream Big Podcast with their community. Big thanks this week to Diana Hansen of Diana Rambles, a lifestyle blog focused on simple food and DIY/craft, including party planning with free printables. She post tips on parenting, health & fitness, and camping, as well as simple solutions to solving everyday problems. . We loved that Diana included the Dream Big Podcast in her amazing post on Pillow Futon Easy Sewing Tutorial. I'm sure you'll love getting lost in the great content and reviews on the Diana Rambles blog.
BECOME A DREAM BIG INSIDER
CLAIM YOUR FREE DREAM BIG JOURNAL

We are currently offering a FREE & PERSONALIZED Dream Big Journal to say thank you for supporting our show.  Click the link above to claim your journal while this special offer is still available.
THANK YOU FOR LISTENING — SUBSCRIBE & LEAVE A HONEST REVIEW. GET FREE PERSONALIZED STICKERS!
To get Dream Big episodes sent directly to your device as they are published, you can subscribe:
Subscribe and listen to the DREAM BIG Podcast on:
iTunes  |  Stitcher  |  Google Play Music  |  Soundcloud  |  iHeartRadio  |  Spotify
If you received value from our podcast, we would greatly appreciate if you could take a minute to leave us a review on iTunes review on iTunes here. This helps us get more exposure for the podcast and in turn allows us to inspire more people to dream big. We read each and every review and are so grateful to our listeners who have taken the time to write us one. For a limited time only, as a way to say thank you for taking the time to leave an honest review, we will mail you 48 free personalized stickers! Follow the instructions at DreamBigPodcast.com/bonus to get your free stickers!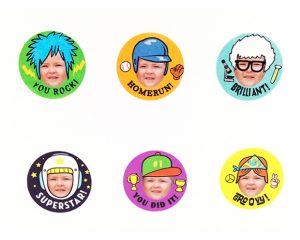 Thanks again for all of your amazing support.
Share this: