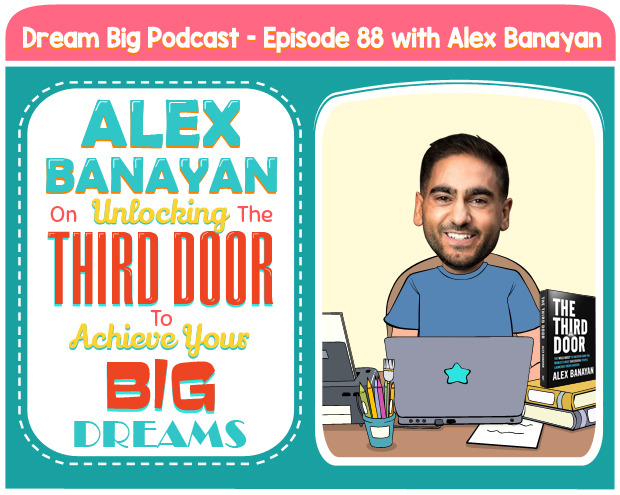 Share this: 
LISTEN TO OUR PODCAST
Subscribe and listen to the DREAM BIG Podcast on:
iTunes  |  Stitcher  |  Google Play Music  |  Soundcloud  |  iHeartRadio  |  Spotify
TODAY'S GUEST
Alex Banayan hacked The Price Is Right the day before his freshman year final exams, won a sailboat, sold it, and used the prize money to fund his quest to learn from the world's most successful people.
Alex has been named to Forbes' "30 Under 30" list and Business Insider's "Most Powerful People Under 30." He has contributed to Fast Company, the Washington Post, Entrepreneur, and TechCrunch, and has been featured in major media including Fortune, Forbes, Businessweek, Bloomberg TV, Fox News, and CBS News.
Alex is also an acclaimed keynote speaker. He has presented the Third Door framework to business conferences and corporate leadership teams around the world, garnering standing ovations from Apple, Nike, IBM, Dell, MTV, Harvard, and countless others.
Be sure to pick a copy of Alex's new book "The Third Door" at ThirdDoorBook.com. Alex explains what "The Third Door" is on the podcast but you'll want to pick up a copy to get the full scoop on what Alex learned from his remarkable one-on-one interviews with Bill Gates, Maya Angelou, Steve Wozniak, Jane Goodall, Larry King, Jessica Alba, Pitbull, Tim Ferriss, Quincy Jones, and many others.
WHAT YOU'LL LEARN
How Alex hacked the game show "The Price is Right" and used the winnings to fund his Big Dream.
How Alex interviewed Bill Gates, Larry King, Warren Buffet and so many ultra successful people, and an inspiring story from his interview with Steven Spielberg.
What Alex's book, The Third Door is all about – and what "The Third Door" means.
How long it took Alex to write his new book, The Third Door. Be sure to grab a copy at ThirdDoorBook.com
How Alex deals with his doubts and fears of public speaking – and what he learned on this topic from the successful speakers he has interviewed.
How Alex (and Eva) are Harry Potter superfans, and how the series helped shape Alex's journey.
What Alex does for fun.
Alex's Big Dream for the future.
Alex's advice to his 10-year old self.
And so much more!
RESOURCES
BECOME A DREAM BIG INSIDER
CLAIM YOUR FREE DREAM BIG JOURNAL

We are currently offering a FREE & PERSONALIZED Dream Big Journal to say thank you for supporting our show.  Click the link above to claim your journal while this special offer is still available.
THANK YOU FOR LISTENING — SUBSCRIBE & LEAVE A HONEST REVIEW. GET FREE PERSONALIZED STICKERS!
To get Dream Big episodes sent directly to your device as they are published, you can subscribe:
Subscribe and listen to the DREAM BIG Podcast on:
iTunes  |  Stitcher  |  Google Play Music  |  Soundcloud  |  iHeartRadio  |  Spotify
If you received value from our podcast, we would greatly appreciate if you could take a minute to leave us a review on iTunes review on iTunes here. This helps us get more exposure for the podcast and in turn allows us to inspire more people to dream big. We read each and every review and are so grateful to our listeners who have taken the time to write us one. For a limited time only, as a way to say thank you for taking the time to leave an honest review, we will mail you 48 free personalized stickers! Follow the instructions at DreamBigPodcast.com/bonus to get your free stickers!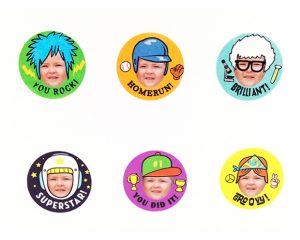 Thanks again for all of your amazing support.
Share this: