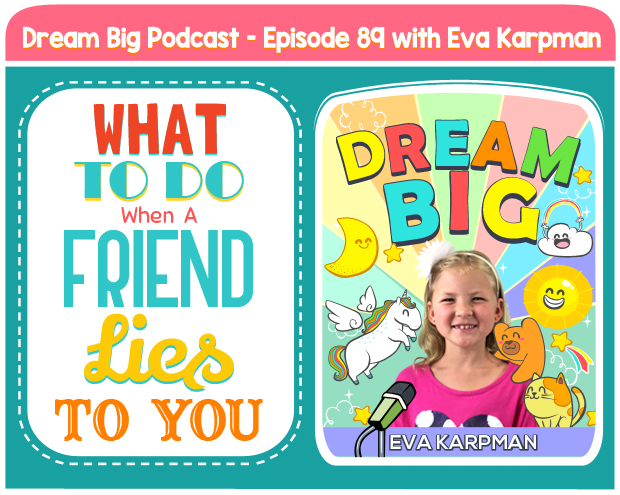 Share this: 
LISTEN TO OUR PODCAST
Subscribe and listen to the DREAM BIG Podcast on:
iTunes  |  Stitcher  |  Google Play Music  |  Soundcloud  |  iHeartRadio  |  Spotify
SOLO EPISODE FROM EVA
We have a new intro that we created for Eva's solo episodes.   I hope your kids love it. We'll continue to use our jingle for episodes where there are interviews, but thought it would be fun to create a new introduction for her solo episodes which Eva is excited to do more often.  
In this podcast, Eva answers a question from Nicole in Austin, Texas.   Nicole writes: "Hi Eva.  I love the Dream Big Podcast.  I hope you can help give some advice on something that is really bothering me and I can't seem to let it go.   A few weeks ago I found out that one of my best friends Allison lied to me and I'm still fuming about it. She said that she could not get together because her parents told her she had to stay home and do homework, but then I found out that she was actually playing at another friends house.  I feel like I can't trust her anymore and also hurt that she apparently wanted to hang out with someone else other than me. I don't like the fact that I am so mad about this so I would love to got your advice on how I can forgive her."
Listen to the episode for Eva's response, where she explains that while you can't control the action of others, you can control how you react and that makes all the difference.  
THIS WEEK'S RHYME
Over the course of your life, people will lie to you, and that's a guarantee.
The quality of your life will depend on whether you can forgive or if you decide to stay angry.
Nelson Mandela was unjustly in prison for 27 years, and let's not forget the Pope.
John Paul visited and forgave the man who shot him 4 times — that kind of forgiveness should give us all hope.
Because it proves that if they can forgive in those situations, then certainly so can you.
In life, you can't control other people but how you respond is in your purview.
You can get consumed with anger — you've been betrayed. You're angry and you won't budge.
What could be solved with a 5 minute conversation can turn into a destructive, decades long grudge.
The better option is to forgive — for you own sake — just let it go.
And all that wasteful energy can be redirected to your Big Dreams – forgiving is how you will grow.
RESOURCES
BECOME A DREAM BIG INSIDER
CLAIM YOUR FREE DREAM BIG JOURNAL

We are currently offering a FREE & PERSONALIZED Dream Big Journal to say thank you for supporting our show.  Click the link above to claim your journal while this special offer is still available.
THANK YOU FOR LISTENING — SUBSCRIBE & LEAVE A HONEST REVIEW. GET FREE PERSONALIZED STICKERS!
To get Dream Big episodes sent directly to your device as they are published, you can subscribe:
Subscribe and listen to the DREAM BIG Podcast on:
iTunes  |  Stitcher  |  Google Play Music  |  Soundcloud  |  iHeartRadio  |  Spotify
If you received value from our podcast, we would greatly appreciate if you could take a minute to leave us a review on iTunes review on iTunes here. This helps us get more exposure for the podcast and in turn allows us to inspire more people to dream big. We read each and every review and are so grateful to our listeners who have taken the time to write us one. For a limited time only, as a way to say thank you for taking the time to leave an honest review, we will mail you 48 free personalized stickers! Follow the instructions at DreamBigPodcast.com/bonus to get your free stickers!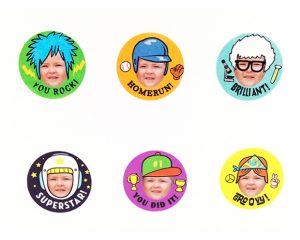 Thanks again for all of your amazing support.
Share this: