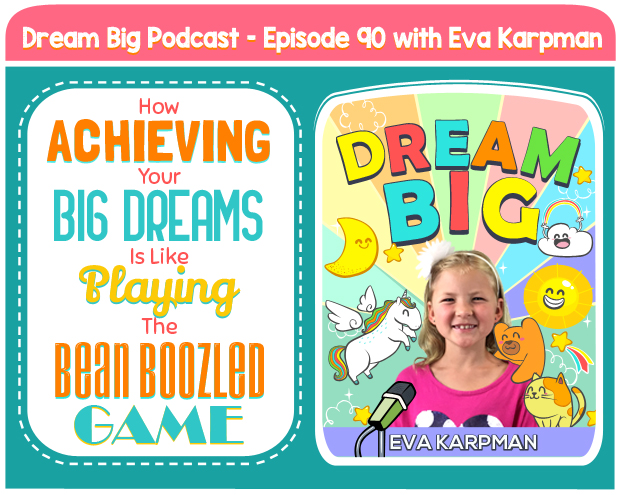 Share this: 
LISTEN TO OUR PODCAST
Subscribe and listen to the DREAM BIG Podcast on:
iTunes  |  Stitcher  |  Google Play Music  |  Soundcloud  |  iHeartRadio  |  Spotify
SOLO EPISODE FROM EVA
In this podcast episode, Eva shares an an analogy of how chasing your big dreams is a lot like playing the Bean Boozled game.  You may have seen the viral videos of families playing this game. Here is an example.   If you are not familiar with how the game works — essentially the makers of the game have created identical Jelly Beans from the outside — but the taste is very, very different.  So for example, there will be white Jelly Beans in the pack and the one you pick up could taste like delicious Coconut or it can taste like Spoiled Milk. The brown one could be – Chocolate Pudding or it could be Canned Dog Food.  The yellow one could be Buttered Popcorn or Rotten Egg. You spin the wheel and when it lands on a color, you and whoever you are playing with pick the same color beans and eat them at the same time — and the look on your face within that first chew tells the rest of the story.    
In this episode, Eva shares how when you chase your big dreams, you don't always get the delicious flavors.  It's a really fun episode and we hope you love it!
THIS WEEK'S RHYME
If you think achieving your Big Dreams will be easy, oh what a shame!
The journey can be compared to playing the the Bean Boozled game.
You'll think you picked a route that will be as yummy as a vanilla milkshake.
But make a wrong turn — and it tastes more like moldy cheesecake.
To achieve your Big Dreams, be prepared for a ton of hard work, sweat and tears.
You'll experience Rejection, defeat, and be forced to face your fears.
Don't just fall in love with the end result but also all the hard work you'll need to put in.
You will hit bumps in the road, but keep at it and ultimately you will win.
RESOURCES
BECOME A DREAM BIG INSIDER
CLAIM YOUR FREE DREAM BIG JOURNAL

We are currently offering a FREE & PERSONALIZED Dream Big Journal to say thank you for supporting our show.  Click the link above to claim your journal while this special offer is still available.
THANK YOU FOR LISTENING — SUBSCRIBE & LEAVE A HONEST REVIEW. GET FREE PERSONALIZED STICKERS!
To get Dream Big episodes sent directly to your device as they are published, you can subscribe:
Subscribe and listen to the DREAM BIG Podcast on:
iTunes  |  Stitcher  |  Google Play Music  |  Soundcloud  |  iHeartRadio  |  Spotify
If you received value from our podcast, we would greatly appreciate if you could take a minute to leave us a review on iTunes review on iTunes here. This helps us get more exposure for the podcast and in turn allows us to inspire more people to dream big. We read each and every review and are so grateful to our listeners who have taken the time to write us one. For a limited time only, as a way to say thank you for taking the time to leave an honest review, we will mail you 48 free personalized stickers! Follow the instructions at DreamBigPodcast.com/bonus to get your free stickers!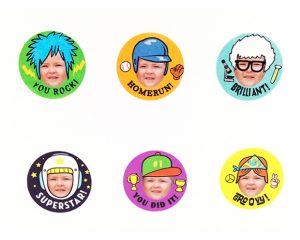 Thanks again for all of your amazing support.
Share this: