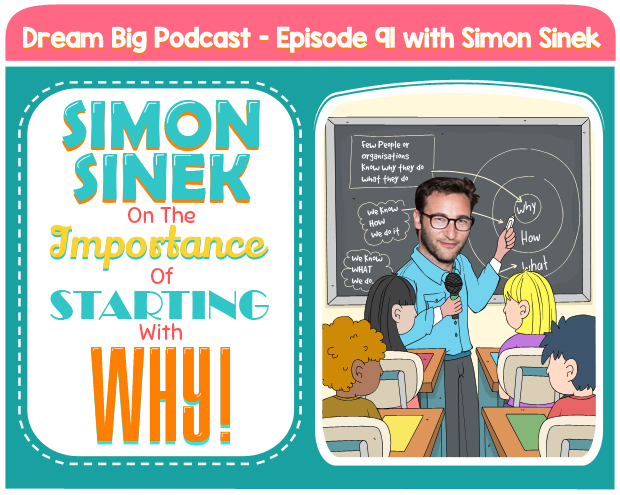 Share this: 
LISTEN TO OUR PODCAST
Subscribe and listen to the DREAM BIG Podcast on:
iTunes  |  Stitcher  |  Google Play Music  |  Soundcloud  |  iHeartRadio  |  Spotify
TODAY'S GUEST
Simon Sinek is an unshakable optimist, and we were thrilled he agreed to come on the Dream Big Podcast — as we have been great admirers of his work for years. If you haven't read "Start With Why" — we consider it a must-read and offer our highest recommendation.
Simon believes in a bright future and our ability to build it together. Described as "a visionary thinker with a rare intellect," Simon teaches leaders and organizations how to inspire people. With a bold goal to help build a world in which the vast majority of people go home every day feeling fulfilled by their work, Simon is leading a movement to inspire people to do the things that inspire them.
WHAT YOU'LL LEARN
How Simon travelled a lot as a kid – and how that exposure helped him find comfort in the uncomfortable.
Simon differentiate goals from dreams – and shares his own goals and dreams.
What Simon means with the "Why" in his book, "Start With Why?."
Simon's favorite movie and characters.
What Simon does in tough situations.
Simon explains what it means to be an optimist – and why it is important to develop it at a young age.
Simon's definition of leadership.
Simon's tips to parents on how they can teach leadership to their kids.
Simon's favorite author.
Simon's greatest achievement so far.
What Simon does for fun.
Simon's advice to his 10-year old self.
How Simon overcome his doubts and fears.
And so much more!
RESOURCES
BECOME A DREAM BIG INSIDER
CLAIM YOUR FREE DREAM BIG JOURNAL

We are currently offering a FREE & PERSONALIZED Dream Big Journal to say thank you for supporting our show.  Click the link above to claim your journal while this special offer is still available.
THANK YOU FOR LISTENING — SUBSCRIBE & LEAVE A HONEST REVIEW. GET FREE PERSONALIZED STICKERS!
To get Dream Big episodes sent directly to your device as they are published, you can subscribe:
Subscribe and listen to the DREAM BIG Podcast on:
iTunes  |  Stitcher  |  Google Play Music  |  Soundcloud  |  iHeartRadio  |  Spotify
If you received value from our podcast, we would greatly appreciate if you could take a minute to leave us a review on iTunes review on iTunes here. This helps us get more exposure for the podcast and in turn allows us to inspire more people to dream big. We read each and every review and are so grateful to our listeners who have taken the time to write us one. For a limited time only, as a way to say thank you for taking the time to leave an honest review, we will mail you 48 free personalized stickers! Follow the instructions at DreamBigPodcast.com/bonus to get your free stickers!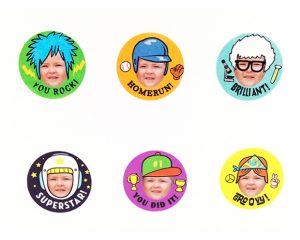 Thanks again for all of your amazing support.
Share this: