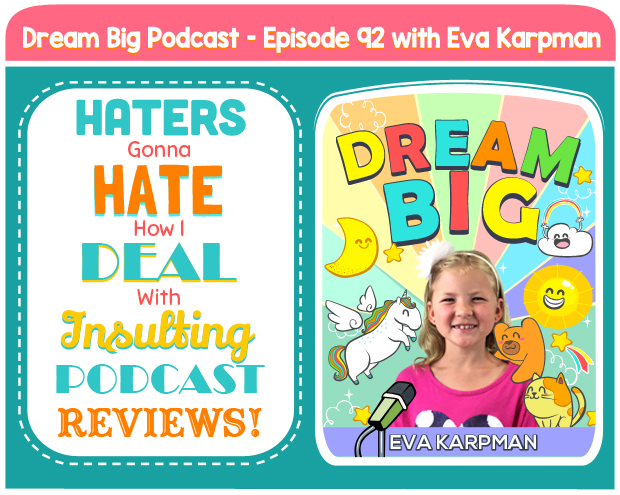 Share this: 
LISTEN TO OUR PODCAST
Subscribe and listen to the DREAM BIG Podcast on:
iTunes  |  Stitcher  |  Google Play Music  |  Soundcloud  |  iHeartRadio  |  Spotify
SOLO EPISODE FROM EVA
In this podcast episode, Eva answers a question from Thomas from Little Rock, Arkansas.  Thomas writes:
Dear Eva: Thank you for creating the Dream Big Podcast.  I really enjoy listening to it and your little rhymes at the end.  They are fun! I have a question for you. I started a youtube channel reviewing video games.  I am having trouble reading the comment section on my videos because people are so mean there. They make fun of my voice and say I sound like a girl.  They also say a bunch of other terrible things about me and my family. It is very hurtful. Even though your podcast is great, I'm sure you've probably received criticism and I'd love to know your advice for handling it.  Thank you!
This was a timely question for Eva because recently there have been internet trolls who have been leaving mean reviews on iTunes of Eva's podcast.  One person even recently gave here a 1 star review and said Eva sounds "like a cat having a lung removed." When Eva first saw the reviews, she was understandably upset.  After all, she puts so much work into the podcast and really is just trying to help inspire kids to go after their dreams. Fortunately, Eva has quickly learned how to deal with Haters, and shares her tips with Thomas and all Big Dreamers who encounter Haters in their life.
If you agree with Eva's advice in this episode and can take a few minutes to leave Eva a review of the Dream Big Podcast, we would greatly appreciate it.   While Eva has learned to ignore the Haters, she still does love receiving reviews from those who are inspired by the value she is creating with the Podcast.   You can leave a review on iTunes here — or whatever podcast platform you are using to listen to the show.
THIS WEEK'S RHYME
When you share your gift with the world, you'll find some people will be mean.
They will tell you you're no good and can use language that's obscene!
These haters want to destroy your dreams — tearing you down is their only aim.
Imagine if Steve Jobs didn't build the iPhone because someone said his idea was lame.
Or if JK Rowling never published Harry Potter because a critic said her writing was bad.
Tens of millions of kids would have been deprived of her genius, now wouldn't that be so sad?
Remember, your dreams are yours for the taking so act now — don't you wait!
Ignore the naysayers — brush that dirt off your shoulders cause Haters Gonna Hate.
RESOURCES
BECOME A DREAM BIG INSIDER
CLAIM YOUR FREE DREAM BIG JOURNAL

We are currently offering a FREE & PERSONALIZED Dream Big Journal to say thank you for supporting our show.  Click the link above to claim your journal while this special offer is still available.
THANK YOU FOR LISTENING — SUBSCRIBE & LEAVE A HONEST REVIEW. GET FREE PERSONALIZED STICKERS!
To get Dream Big episodes sent directly to your device as they are published, you can subscribe:
Subscribe and listen to the DREAM BIG Podcast on:
iTunes  |  Stitcher  |  Google Play Music  |  Soundcloud  |  iHeartRadio  |  Spotify
If you received value from our podcast, we would greatly appreciate if you could take a minute to leave us a review on iTunes review on iTunes here. This helps us get more exposure for the podcast and in turn allows us to inspire more people to dream big. We read each and every review and are so grateful to our listeners who have taken the time to write us one. For a limited time only, as a way to say thank you for taking the time to leave an honest review, we will mail you 48 free personalized stickers! Follow the instructions at DreamBigPodcast.com/bonus to get your free stickers!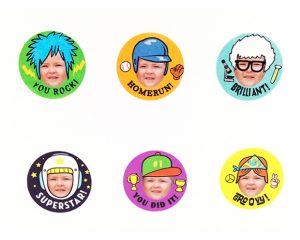 Thanks again for all of your amazing support.
Share this: