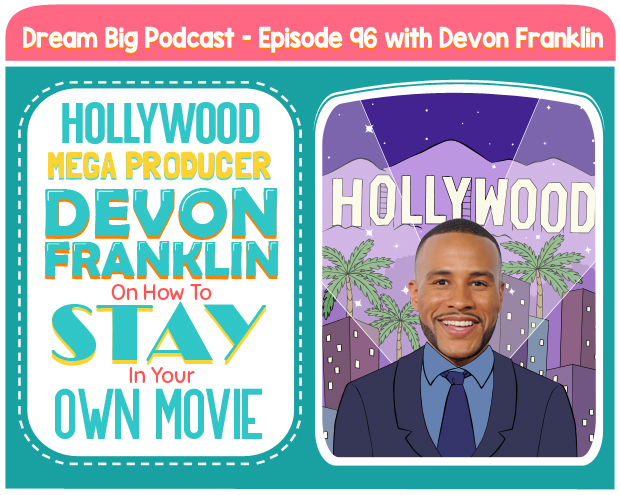 Share this: 
LISTEN TO OUR PODCAST
Subscribe and listen to the DREAM BIG Podcast on:
iTunes  |  Stitcher  |  Google Play Music  |  Soundcloud  |  iHeartRadio  |  Spotify
TODAY'S GUEST
Every so often we score a guest on the Dream Big Podcast who has so much positive energy and wisdom to share that we know we have a special episode on our hands as soon as we finish recording.  This is what we felt after our discussion with DeVon Franklin. DeVon is a New York Times bestselling author, spiritual success coach, and the CEO of Franklin Entertainment, a production company in conjunction with 20th Century Fox. He is the producer of the box office hit Miracles from Heaven and the most recent release, THE STAR, for Sony Pictures Animation.
Variety named DeVon one of the "10 Producers to Watch" and he's Dr. Oz's go-to guy for spiritual success coaching on The Dr. Oz Show as well as the co-host of the TLC event series, This Is Life Live.  He is also the author of the New York Times bestseller, The Wait (co-written with his wife, award-winning actress Meagan Good) and Produced By Faith.
WHAT YOU'LL LEARN
How DeVon started his career in Hollywood.
DeVon explains what an internship is – and how that could get you the best experiences and opportunities to find your path.
DeVon's definition of success.
Why it is important to do a self-analysis or a spirit-check to find peace in yourself.
Why DeVon decided to leave Sony Pictures Entertainment after producing the film Heaven is For Real, and start his own production company, Franklin Entertainment.
DeVon explains why it is important to start early and not hit the "Snooze Button" to achieve your big dreams.
What it was like for Devon growing up with a single mother – and his advice to young Big Dreamers on how to deal with a loss at such a young age.
Why it is important to look at your life as a movie and how you should always "stay in your own movie."
DeVon's mentors and the best advice he received from them.
What's next for DeVon.
DeVon's greatest achievement so far.
How Devon overcomes his doubts and fears in life.
DeVon's advice on how you can get an internship in Hollywood.
Devon's BIG DREAM for the future!
And so much more!
RESOURCES
BECOME A DREAM BIG INSIDER
CLAIM YOUR FREE DREAM BIG JOURNAL

We are currently offering a FREE & PERSONALIZED Dream Big Journal to say thank you for supporting our show.  Click the link above to claim your journal while this special offer is still available.
THANK YOU FOR LISTENING — SUBSCRIBE & LEAVE A HONEST REVIEW. GET FREE PERSONALIZED STICKERS!
To get Dream Big episodes sent directly to your device as they are published, you can subscribe:
Subscribe and listen to the DREAM BIG Podcast on:
iTunes  |  Stitcher  |  Google Play Music  |  Soundcloud  |  iHeartRadio  |  Spotify
If you received value from our podcast, we would greatly appreciate if you could take a minute to leave us a review on iTunes review on iTunes here. This helps us get more exposure for the podcast and in turn allows us to inspire more people to dream big. We read each and every review and are so grateful to our listeners who have taken the time to write us one. For a limited time only, as a way to say thank you for taking the time to leave an honest review, we will mail you 48 free personalized stickers! Follow the instructions at DreamBigPodcast.com/bonus to get your free stickers!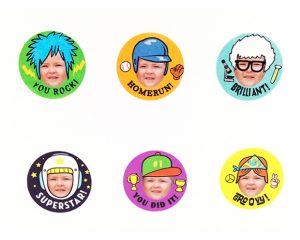 Thanks again for all of your amazing support.
Share this: