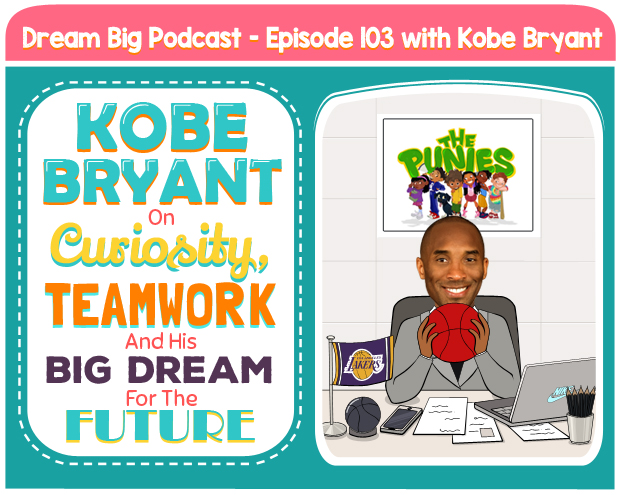 Share this:
LISTEN TO OUR PODCAST
Subscribe and listen to the DREAM BIG Podcast on:
iTunes | Stitcher | Google Play Music | Amazon Music | iHeartRadio | Spotify
TODAY'S GUEST
About a week ago, Kobe Bryant's manager reached out to us about coming on the Dream Big Podcast. We've always initiated contact with our guests and work really hard on personalized invitations, so you can imagine the shock to find out we were going to have Kobe on the show and that his team had contacted us! We were especially excited because we live in Los Angeles, and are huge Lakers fans (and therefore huge Kobe Bryant fans).
The reason Kobe reached out to Eva is because he and an incredible team of creatives recently launched a new family-friendly podcast called The Punies. The podcast is about an eclectic group of neighborhood friends, known as The Good Ol' Gang, who play sports and take on adventures together. Each episode shares important life lessons on how to play with joy and limitless imagination, the way sports should be played. We've listened to all the episodes, and it should come as no surprise that since Kobe put it out — the podcast is amazing.
I imagine that almost everybody listening knows who Kobe is — but for our youngest Big Dreamers — he is one of top 5 — if not the best basketball player to ever live. He played 20 years for the Los Angeles Lakers — getting drafted out of high school and playing for the Lakers his entire career. He brought the city of LA 5 NBA championships. This interview focuses on what Kobe has been doing since his retirement — and how the next chapter of his life will be even more impactful than the time he spent as a Laker. Enjoy!
WHAT YOU'LL LEARN
Kobe and Eva talk about their mutual friend, Cal Fussman.

Why Kobe decided to make storytelling the focal point of the next chapter of his career.

What valuable lessons Kobe learned from his 20-year career of playing basketball.

Kobe talks about the concept of his latest project, The Punies.

How her daughter relates to one of the characters in the Good Ol Gang.

The qualities Kobe and his team looked for to choose the actors for The Punies.

Why it is an important theme for kids to know how to deal with both winning and losing in life.

Kobe on the power of working as a team, and how much more you can accomplish together.

Why it is important to surround yourself with people who believe in your dream.

Kobe's BIG DREAM for the future.

And so much more!
RESOURCES
DREAM BIG ACADEMY – BETA GROUP LIMITED TO 50 STUDENTS
We are hard at work at the Dream Big Academy — a course that Eva is creating with her parents (Alex and Olga) to teach kids about success principles (e.g. self-belief, positive attitude, gratitude, etc). We feel that these concepts are not adequately taught at schools, that all the materials created by top "gurus" are made by adults for adults, and that it is never too early to start learning these concepts. We are almost done with Section 1 of the course which is all about the power of self-belief — and it is incredible content. If you would like to be part of our Beta Group and receive the first section of the course for FREE, then please sign up now at DreamBigPodcast.com/beta and we will send you the course materials very soon. We are going to cap the number of Beta members at 50, so if you want a spot please sign up now before the group fills up.
THANK YOU FOR LISTENING — SUBSCRIBE & LEAVE A HONEST REVIEW.
Big Dreamer, if you loved our latest episode, do us a favor and leave a review on iTunes. It's like giving us a virtual high five and it helps us create even more epic content for you in the future. Just hit up this link and let the world know how much you love our show.
BECOME A DREAM BIG INSIDER
Not sure where to get started?
It is as easy as 1, 2, 3.
Step 1 – Enjoy These FREE Resources:
Step 2 – Subscribe To The Dream Big Podcast
Step 3 – Connect With Our Community
Share With Eva How The Dream Big Podcast Has Impacted Your Family's Life. Eva Will Respond With A Personalized Video Message 🙂