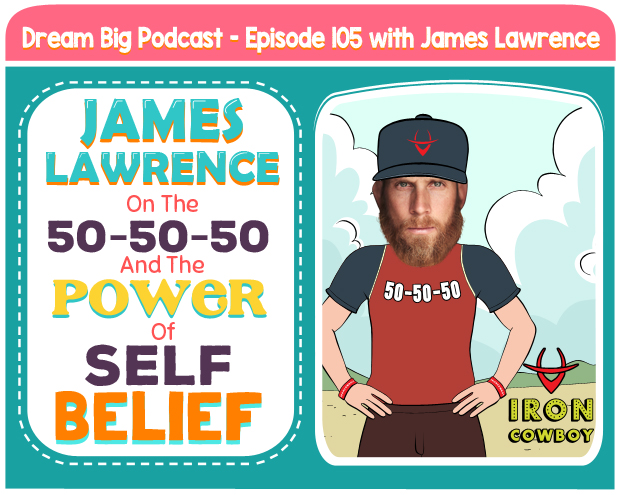 Share this: 
LISTEN TO OUR PODCAST
Subscribe and listen to the DREAM BIG Podcast on:
iTunes  |  Stitcher  |  Google Play Music  |  Soundcloud  |  iHeartRadio  |  Spotify
TODAY'S GUEST
We've had a lot of incredible athletes on the Dream Big Podcast, but James Lawrence stands out as accomplishing a physical feat that nearly everyone said would be humanly possible.  Specifically, in 2015 James completed 50 Ironman distance triathlons, in 50 days, in each of the 50 United States — The 50-50-50. A single Ironman is an incredible accomplishment — as it consists of a 2.4-mile (3.86 km) swim, a 112-mile (180.25 km) bicycle ride and a marathon 26.22-mile (42.20 km) run, raced in that order and without a break.   So you can see why everyone told James he was absolutely out of his mind to think he could do an Ironman 50 days in a row, especially with the travel required to do this in all 50 US States. But as you'll learn in this episode, James did reach his goal, learned a ton about himself and life through the process — and certainly earned his incredibly cool nickname — the Iron Cowboy.
WHAT YOU'LL LEARN
James on his childhood and how all the young boys (except him) played hockey in his hometown.

How James fell in love with the outdoors.

How James got started with running – and how he hated it at first.

Why James loves triathlons more than running.

How long it takes to finish the Ironman distance triathlon.

How many Ironmans James has completed in his career.

James on his 50.50 journey.

The incredible team who supported James during his 50.50 journey.

Why James decided to do his 50.50 journey – and how he inspired a lot of people to bring awareness to childhood obesity.

James' most special moment with her daughter, Lucy.

James' advice to the Big Dreamers on dealing with naysayers (people who tell you that you can't achieve your dreams).

James' advice to his 10-year old self.

James' BIG DREAM for the future!

How James got his amazing nickname, Iron Cowboy.

And so much more!
RESOURCES
DREAM BIG ACADEMY – GET ON OUR WAITLIST
We are hard at work at the Dream Big Academy — a course that Eva is creating with her parents (Alex and Olga) to teach kids about success principles (e.g. self-belief, positive attitude, gratitude, etc).   We feel that these concepts are not adequately taught at schools, that all the materials created by top "gurus" are made by adults for adults, and that it is never too early to start learning these concepts.   If you would like to be the first to know when the Academy is ready, then please sign up now at DreamBigPodcast.com/waitlist.  We may open up a few more spots to our Beta group (which is currently full but can be expanded if we need additional feedback).   We will reach out to the waitlist on a first-come, first-served basis if any spots open up, so join the list today at DreamBigPodcast.com/waitlist
CLAIM YOUR FREE DREAM BIG JOURNAL

We are currently offering a FREE & PERSONALIZED Dream Big Journal to say thank you for supporting our show.  Click the link above to claim your journal while this special offer is still available.
THANK YOU FOR LISTENING — SUBSCRIBE & LEAVE A HONEST REVIEW. GET FREE PERSONALIZED STICKERS!
To get Dream Big episodes sent directly to your device as they are published, you can subscribe:
Subscribe and listen to the DREAM BIG Podcast on:
iTunes  |  Stitcher  |  Google Play Music  |  Soundcloud  |  iHeartRadio  |  Spotify
If you received value from our podcast, we would greatly appreciate if you could take a minute to leave us a review on iTunes review on iTunes here. This helps us get more exposure for the podcast and in turn allows us to inspire more people to dream big. We read each and every review and are so grateful to our listeners who have taken the time to write us one. For a limited time only, as a way to say thank you for taking the time to leave an honest review, we will mail you 48 free personalized stickers! Follow the instructions at DreamBigPodcast.com/bonus to get your free stickers!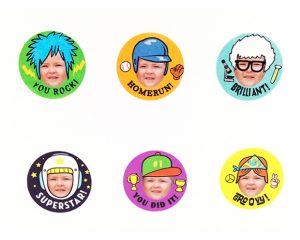 Thanks again for all of your amazing support.
Share this: