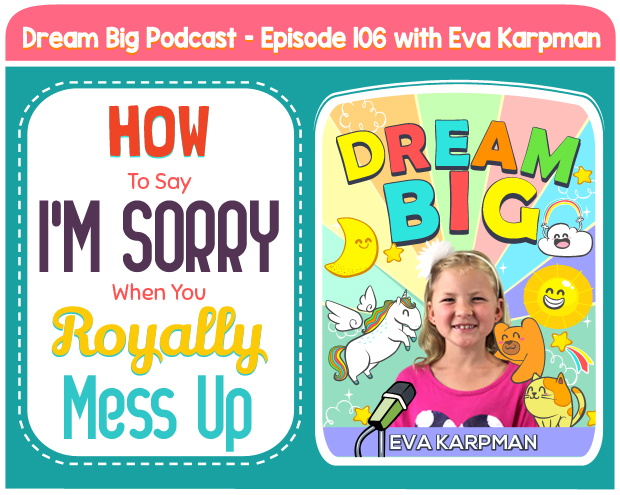 Share this: 
LISTEN TO OUR PODCAST
Subscribe and listen to the DREAM BIG Podcast on:
iTunes  |  Stitcher  |  Google Play Music  |  Soundcloud  |  iHeartRadio  |  Spotify
SOLO EPISODE FROM EVA
We're all human and mess up sometimes.  And occasionally, even the best of us royally mess up and really hurt the feelings of someone we love.  In this episode, Eva shares a 3-step process which we believe is the best way to say "I'm Sorry" in such a situation.   Eva shares this advice in response to the following question from one of our Big Dreamers, Lisa from Miami:
Eva, I royally messed up.   My sister Jenny was really getting on my nerves the other day.   She's younger and would not stop coming in my room (even though I was trying to do my school work).  She was playing with my toys and distracting me. I asked her a few times nicely to leave but she would not and finally I lost my cool and screamed at her to get out, told her she could not touch my toys and that she was not allowed in my room ever again.  Plus, a bunch of other mean things that were really out of line. It felt good in the moment because I was so angry but, as you could imagine, she burst into tears. It took my parents 30 minutes to console her. Even after my parents told me I had to say I'm sorry and I did it, she was still clearly hurt by what her big sister had said.   She really looks up to me. I'm wondering how could I have handled things differently, and what is the best way to say "I'm Sorry" is if I mess up again in the future?
We hope you enjoy this episode and believe it is great advice for our kid and adult Big Dreamers!
DREAM BIG ACADEMY – WAITING LIST
We are hard at work at the Dream Big Academy — a course that Eva is creating with her parents (Alex and Olga) to teach kids about success principles (e.g. self-belief, positive attitude, gratitude, etc).   We feel that these concepts are not adequately taught at schools, that all the materials created by top "gurus" are made by adults for adults, and that it is never too early to start learning these concepts.  Be sure to sign up here – DreamBigPodcast.com/waitlist – to be the first to know when we are ready to release the course. You'll also be put on our waiting list if we decide to open up any more spots for the Beta Group (which is currently full).   Sign up at — DreamBigPodcast.com/waitlist
BECOME A DREAM BIG INSIDER
CLAIM YOUR FREE DREAM BIG JOURNAL

We are currently offering a FREE & PERSONALIZED Dream Big Journal to say thank you for supporting our show.  Click the link above to claim your journal while this special offer is still available.
THANK YOU FOR LISTENING — SUBSCRIBE & LEAVE A HONEST REVIEW. GET FREE PERSONALIZED STICKERS!
To get Dream Big episodes sent directly to your device as they are published, you can subscribe:
Subscribe and listen to the DREAM BIG Podcast on:
iTunes  |  Stitcher  |  Google Play Music  |  Soundcloud  |  iHeartRadio  |  Spotify
If you received value from our podcast, we would greatly appreciate if you could take a minute to leave us a review on iTunes review on iTunes here. This helps us get more exposure for the podcast and in turn allows us to inspire more people to dream big. We read each and every review and are so grateful to our listeners who have taken the time to write us one. For a limited time only, as a way to say thank you for taking the time to leave an honest review, we will mail you 48 free personalized stickers! Follow the instructions at DreamBigPodcast.com/bonus to get your free stickers!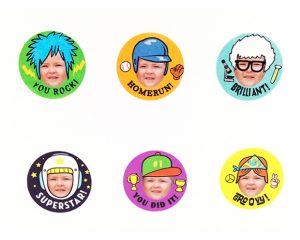 Thanks again for all of your amazing support.
Share this: