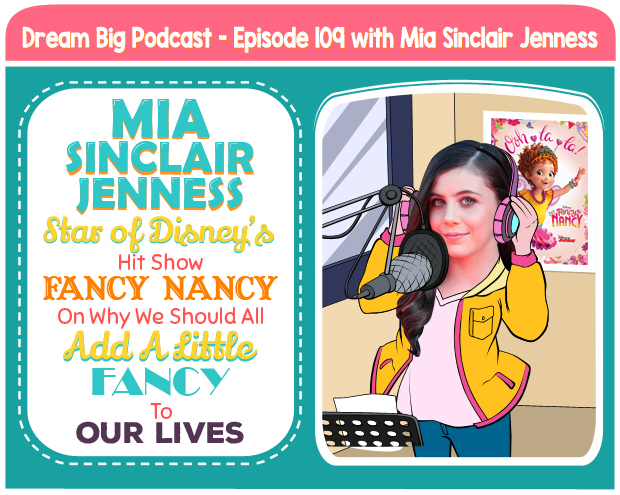 Share this: 
LISTEN TO OUR PODCAST
Subscribe and listen to the DREAM BIG Podcast on:
iTunes  |  Stitcher  |  Google Play Music  |  Soundcloud  |  iHeartRadio  |  Spotify
TODAY'S GUEST
Today we have a very fancy guest — star of Disney's Fancy Nancy to be exact.  Mia Sinclair Jenness made her professional debut at the age of six in the National Tour of Les Miserables, the youngest child to have ever been cast in the show.  She also starred as Matilda in Matilda The Musical.  Currently, she is the voice of Nancy in Disney's hit show Fancy Nancy based on the New York Times bestselling book series that most kids know and love!  I know I do! Disney's animated family comedy centers around six-year-old Nancy, a high-spirited young girl whose zest and enthusiasm for all that is exquisite – including language, nature, art and color – transforms the ordinary into the extraordinary.
For those who are listening to this episode near its publication date, there is a special episode airing on Friday, Nov. 2 2018 at 11:00 a.m. ET/PT on Disney Channel called "Ice Skater Extraordinaire/Nancy L'Artiste."  And if you are reading this after that date, Fancy Nancy airs weekdays on Disney Channel and daily on Disney Junior.
Thank you Mia for coming on the Podcast and for singing a few lines of the sublime — that's a fancy word for amazing – theme song.  We loved having you on the show!
WHAT YOU'LL LEARN
Where Mia grew up and how she got started with singing.

Mia tells a story about how her mom figured out that she has a good ear for music.

How candy bars helped inspire Mia to accomplish her goals.

Mia describes her work ethic — and how hard she worked memorizing her lines.

How many times Mia played the role Matilda – and why she never got tired of playing it over and over again!

How Mia feeds off of her audience's energy during live shows.

Mia shares who inspires her when she is singing.

Mia talks about her most recent project, Fancy Nancy.

Mia sings a part of the Fancy nancy theme song. How cool!

What Mia loves about working on an animated series.

Mia shares the lesson that our Big Dreamers will learn in Fancy Nancy's first episode.

How Mia handles rejection.

Mia's BIG DREAM for the future.

And so much more!
RESOURCES
DREAM BIG ACADEMY – WAITING LIST
We are hard at work at the Dream Big Academy — a course that Eva is creating with her parents (Alex and Olga) to teach kids about success principles (e.g. self-belief, positive attitude, gratitude, etc).   We feel that these concepts are not adequately taught at schools, that all the materials created by top "gurus" are made by adults for adults, and that it is never too early to start learning these concepts.   If you would like to be the first to know when the Academy is ready, then please sign up now at DreamBigPodcast.com/waitlist.  We may open up a few more spots to our Beta group (which is currently full but can be expanded if we need additional feedback).   We will reach out to the waitlist on a first-come, first-served basis if any spots open up, so join the list today at DreamBigPodcast.com/waitlist
CLAIM YOUR FREE DREAM BIG JOURNAL

We are currently offering a FREE & PERSONALIZED Dream Big Journal to say thank you for supporting our show.  Click the link above to claim your journal while this special offer is still available.
THANK YOU FOR LISTENING — SUBSCRIBE & LEAVE A HONEST REVIEW. GET FREE PERSONALIZED STICKERS!
To get Dream Big episodes sent directly to your device as they are published, you can subscribe:
Subscribe and listen to the DREAM BIG Podcast on:
iTunes  |  Stitcher  |  Google Play Music  |  Soundcloud  |  iHeartRadio  |  Spotify
If you received value from our podcast, we would greatly appreciate if you could take a minute to leave us a review on iTunes review on iTunes here. This helps us get more exposure for the podcast and in turn allows us to inspire more people to dream big. We read each and every review and are so grateful to our listeners who have taken the time to write us one. For a limited time only, as a way to say thank you for taking the time to leave an honest review, we will mail you 48 free personalized stickers! Follow the instructions at DreamBigPodcast.com/bonus to get your free stickers!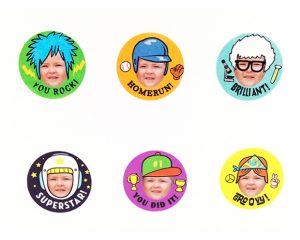 Thanks again for all of your amazing support.
Share this: