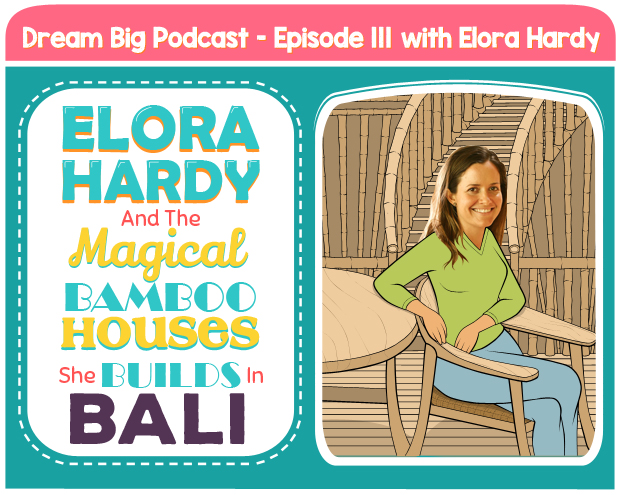 Share this: 
LISTEN TO OUR PODCAST
Subscribe and listen to the DREAM BIG Podcast on:
iTunes  |  Stitcher  |  Google Play Music  |  Soundcloud  |  iHeartRadio  |  Spotify
TODAY'S GUEST
Elora Hardy is the Founder and Creative Director of IBUKU.  Raised in Bali, Elora was inspired by the highly skilled local craftsmen as well as her parents' talented jewelry designs. She spent 14 years of her young adult life in the United States, where she received a degree in fine arts and went on to New York City to design prints for Donna Karan that would walk the world's runways.
In 2010, Elora left her successful career in the fashion world to carry on the incredible work of the design-build team that created the world-renowned Green School in Bali, founded by her father John Hardy. She reconnected with the culture and landscape that she loves and today continues to cultivate Balinese artisans alongside innovative designers and architects with the goal of making Bali a global center for sustainable design and bringing those designs to the rest of the world.
When we watched Elora's TED Talk and saw photos of the majestic bamboo houses that she was building in Bali, Eva immediately said that we need to invite Elora on the podcast.  We encourage everyone to watch the TED Talk because the phrase "you have to see it to believe it" definitely applies to Elora's work. We were honored to have her on the podcast and hope to be able to visit Bali to meet Elora and see her mesmerizing bamboo homes in person.
WHAT YOU'LL LEARN
Elora on what it was like growing up in Bali as a non-Balinese kid.

How Elora's mom fulfilled her 9-year old dream of having a "mushroom" house – and what that experience taught her.

Elora describes some of the bamboo structures she has built in Bali.

Elora explains why the houses she built are appealing to people – and how these houses reconnect us to nature.

Elora on what makes bamboo unique – and how it can withstand an earthquake better than other structures.

Elora talks about the talented team of artists and craftsman she works with in building the bamboo houses.

The inspiration behind the school Elora's family built in Bali, the Green School.

Elora describes the structure of the Green school.

The things Elora does for fun with her son.

Elora's advice to her 10-year old self.

What made Elora overcome fears and doubt about herself and how she continues to pursue her dreams.

Elora's Big Dream for the future.

And so much more!
RESOURCES
DREAM BIG ACADEMY – WAITING LIST
We are hard at work at the Dream Big Academy — a course that Eva is creating with her parents (Alex and Olga) to teach kids about success principles (e.g. self-belief, positive attitude, gratitude, etc).   We feel that these concepts are not adequately taught at schools, that all the materials created by top "gurus" are made by adults for adults, and that it is never too early to start learning these concepts.   If you would like to be the first to know when the Academy is ready, then please sign up now at DreamBigPodcast.com/waitlist.  We may open up a few more spots to our Beta group (which is currently full but can be expanded if we need additional feedback).   We will reach out to the waitlist on a first-come, first-served basis if any spots open up, so join the list today at DreamBigPodcast.com/waitlist
CLAIM YOUR FREE DREAM BIG JOURNAL

We are currently offering a FREE & PERSONALIZED Dream Big Journal to say thank you for supporting our show.  Click the link above to claim your journal while this special offer is still available.
THANK YOU FOR LISTENING — SUBSCRIBE & LEAVE A HONEST REVIEW. GET FREE PERSONALIZED STICKERS!
To get Dream Big episodes sent directly to your device as they are published, you can subscribe:
Subscribe and listen to the DREAM BIG Podcast on:
iTunes  |  Stitcher  |  Google Play Music  |  Soundcloud  |  iHeartRadio  |  Spotify
If you received value from our podcast, we would greatly appreciate if you could take a minute to leave us a review on iTunes review on iTunes here. This helps us get more exposure for the podcast and in turn allows us to inspire more people to dream big. We read each and every review and are so grateful to our listeners who have taken the time to write us one. For a limited time only, as a way to say thank you for taking the time to leave an honest review, we will mail you 48 free personalized stickers! Follow the instructions at DreamBigPodcast.com/bonus to get your free stickers!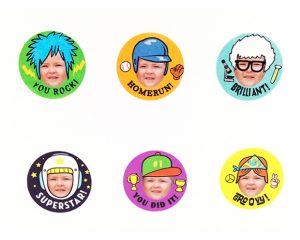 Thanks again for all of your amazing support.
Share this: