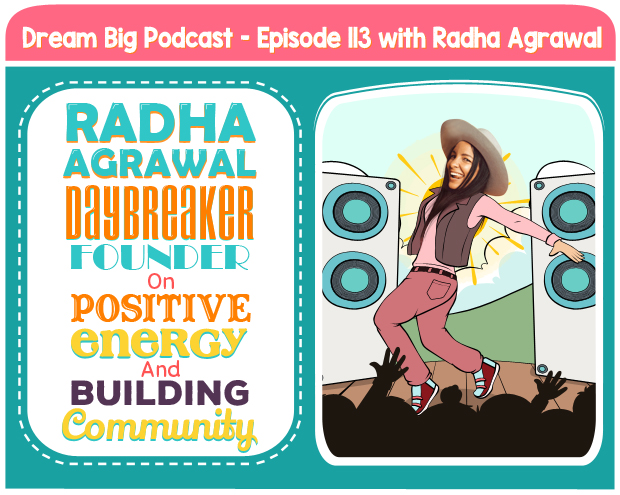 Share this: 
LISTEN TO OUR PODCAST
Subscribe and listen to the DREAM BIG Podcast on:
iTunes  |  Stitcher  |  Google Play Music  |  Soundcloud  |  iHeartRadio  |  Spotify
TODAY'S GUEST
Radha is the co-Founder, CEO and Chief Community Architect of Daybreaker, the early morning dance and wellness move-ment that currently holds events in 25 cities and over a dozen college campuses around the world with a community of almost half a million people. Her new book BELONG answers the questions, "how the heck do I find my people?" and "How do I create large and meaningful communities in the real world?".
Radha spent 18 months synthesizing her key methods for community building, peeling back the curtain on exactly what she and her team did (and continues to do) at Daybreaker so that anyone interested in creating their own community could have a blueprint for how to do it. She is a successful entrepreneur (Co-Founder THINX, LiveItUp), author, globe trotting speaker, DJ, inventor, and investor.
Eva initially met Radha at an event that Daybreaker organized at the Nike Headquarters in Oregon. Eva was the co-emcee of the event, and we were so impressed by Radha and the Daybreaker team that we had to invite her on to the Dream Big Podcast. We are so grateful she agreed to be our guest and know that you will all love this interview!
WHAT YOU'LL LEARN
Where Radha grew up and where her parents are from.
The things Radha learned from her parents' experience as immigrants — and how that inspired her to be an entrepreneur.
Why Radha's parents decided to create "The Gifted Children Science Camp" in their community.
Radha shares the basic concept behind the amazing community and movement called Daybreaker.
Radha talks about her team's strategies on getting people pumped up before sunrise to dance at Daybreaker events.
Why Daybreaker is a great bonding experience for the whole family.
Eva's experience when she went to Portland for a Daybreaker event.
Radha describes what the energy in the room feels like when lots of people come together for the sole purpose of smiling, dancing, and having fun.
Why Radha wrote the book, Belong — Find Your People, Create Your Community, and Live a More Connected Life, and what her readers will learn from reading it.
Radha shares some tips for the young big dreamers on how they can make friends.
Radha's gratitude practice routine.
Radha's Big Dream for the future.
Radha shares some tips on building online communities.
And so much more!
RESOURCES
DREAM BIG ACADEMY – BETA
If you are a long-time listener, you know that we are working on a course that we are going to launch in 2019 called the Dream Big Academy.   The first section of the course is all about this concept of self-belief. And we just completed this section!
We really want all of our Big Dreamers to have access to this information – so we are going to offer the first section for FREE for a limited time.  It is essentially its own course on confidence — with over 1 hour of videos with Eva teaching on the subject!  We hired an amazing illustrator who helped us with the videos and accompanying worksheets. We are so incredibly proud of this content and know it can have a huge impact.   We hear from so many listeners who say that their kids really connect with Eva since she is a peer – and we know that this same connection will carry over to the course. To access this free confidence course, please go to DreamBigPodcast.com/Beta
>> Get Eva's Free Confidence Secrets Course Here <<
BECOME A DREAM BIG INSIDER
CLAIM YOUR FREE DREAM BIG JOURNAL

We are currently offering a FREE & PERSONALIZED Dream Big Journal to say thank you for supporting our show.  Click the link above to claim your journal while this special offer is still available.
THANK YOU FOR LISTENING — SUBSCRIBE & LEAVE A HONEST REVIEW. GET FREE PERSONALIZED STICKERS!
To get Dream Big episodes sent directly to your device as they are published, you can subscribe:
Subscribe and listen to the DREAM BIG Podcast on:
iTunes  |  Stitcher  |  Google Play Music  |  Soundcloud  |  iHeartRadio  |  Spotify
If you received value from our podcast, we would greatly appreciate if you could take a minute to leave us a review on iTunes review on iTunes here. This helps us get more exposure for the podcast and in turn allows us to inspire more people to dream big. We read each and every review and are so grateful to our listeners who have taken the time to write us one. For a limited time only, as a way to say thank you for taking the time to leave an honest review, we will mail you 48 free personalized stickers! Follow the instructions at DreamBigPodcast.com/bonus to get your free stickers!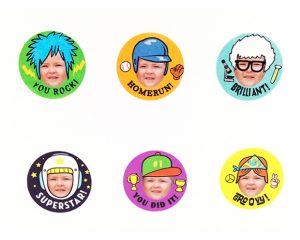 Thanks again for all of your amazing support.
Share this: