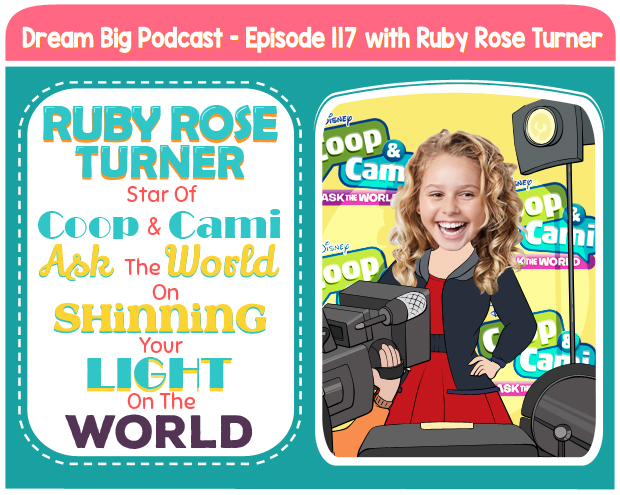 Share this: 
LISTEN TO OUR PODCAST
Subscribe and listen to the DREAM BIG Podcast on:
iTunes  |  Stitcher  |  Google Play Music  |  Soundcloud  |  iHeartRadio  |  Spotify
TODAY'S GUEST
Ruby Rose Turner is an actress, dancer, singer and model who began her professional career at the age of 7 as a dancer on an episode of Univision Miami's longest running hit TV show, "Sabado Gigante." Ruby was a competitive dancer for four years winning several small group National Champion award titles prior to working professionally in the entertainment industry. She has appeared twice on ABC's "Dancing With The Stars" and recurs on Season 2 and Season 3 of "Fuller House" on Netflix as Joey Gladstone's oldest daughter, Phyllis Gladstone.
Currently, Ruby stars in the Disney Channel series "Coop And Cami Ask The World," in which she plays the title role of Cameron "Cami" Wrather. The live-action series follows the antics of middle-school siblings Coop and Cami Wrather, who co-host Coop's popular online show "Would You Wrather" and present out-of-the-box questions and results to the show's millions of followers (aka Wratherheads) who help them solve life problems – both mundane and madcap. Whatever the question or result, Coop and Cami tackle adolescence and everyday family situations with humor and heart.
WHAT YOU'LL LEARN
When Ruby first realized her love for performing.
How hard Ruby trained and how much time she spent practicing her dance routines.
How Ruby feels when she's performing.
Why Ruby dressed up as Lucille Ball last halloween and why Lucille is such an inspiration to her.
Ruby shares what she loves about the I Love Lucy show.
Ruby shares the concept of her exciting Disney Show, Coop and Cami Ask The World.
Ruby shares what kind of team effort goes into creating a single episode of her Disney show.
Ruby and Eva played a "Would You Wrather" game.
Ruby shares what she love most about her new song, Ruby Rock, and her experience recording it.
How Ruby deals with cyber bullies and people who say cruel things about her.
Ruby's Big Dream for the future.
Ruby's trait that has enabled her to take her big dreams and make them a reality.
And so much more!
RESOURCES
DREAM BIG ACADEMY – BETA
If you are a long-time listener, you know that we are working on a course that we are going to launch in 2019 called the Dream Big Academy.   The first section of the course is all about this concept of self-belief. And we just completed this section!
We really want all of our Big Dreamers to have access to this information – so we are going to offer the first section for FREE for a limited time.  It is essentially its own course on confidence — with over 1 hour of videos with Eva teaching on the subject!  We hired an amazing illustrator who helped us with the videos and accompanying worksheets. We are so incredibly proud of this content and know it can have a huge impact.   We hear from so many listeners who say that their kids really connect with Eva since she is a peer – and we know that this same connection will carry over to the course. To access this free confidence course, please go to DreamBigPodcast.com/Beta
>> Get Eva's Free Confidence Secrets Course Here <<
BECOME A DREAM BIG INSIDER
CLAIM YOUR FREE DREAM BIG JOURNAL

We are currently offering a FREE & PERSONALIZED Dream Big Journal to say thank you for supporting our show.  Click the link above to claim your journal while this special offer is still available.
THANK YOU FOR LISTENING — SUBSCRIBE & LEAVE A HONEST REVIEW. GET FREE PERSONALIZED STICKERS!
To get Dream Big episodes sent directly to your device as they are published, you can subscribe:
Subscribe and listen to the DREAM BIG Podcast on:
iTunes  |  Stitcher  |  Google Play Music  |  Soundcloud  |  iHeartRadio  |  Spotify
If you received value from our podcast, we would greatly appreciate if you could take a minute to leave us a review on iTunes review on iTunes here. This helps us get more exposure for the podcast and in turn allows us to inspire more people to dream big. We read each and every review and are so grateful to our listeners who have taken the time to write us one. For a limited time only, as a way to say thank you for taking the time to leave an honest review, we will mail you 48 free personalized stickers! Follow the instructions at DreamBigPodcast.com/bonus to get your free stickers!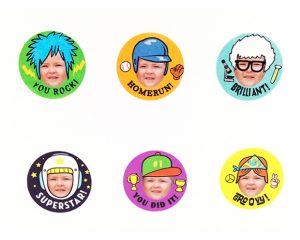 Thanks again for all of your amazing support.
Share this: