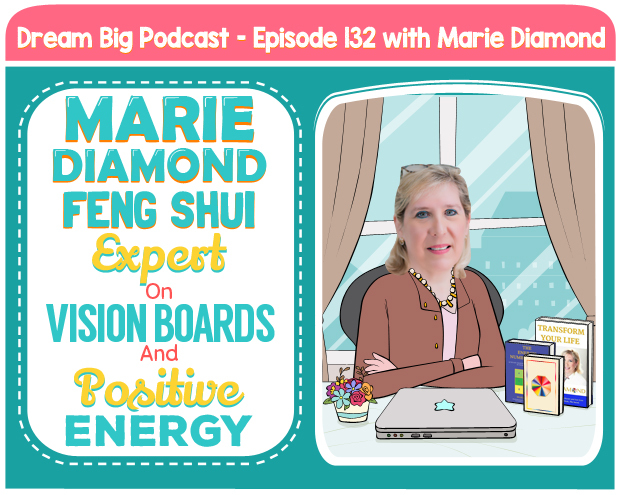 Share this: 
LISTEN TO OUR PODCAST
Subscribe and listen to the DREAM BIG Podcast on:
iTunes  |  Stitcher  |  Google Play Music  |  Soundcloud  |  iHeartRadio  |  Spotify
TODAY'S GUEST
Marie Diamond is a globally renowned Transformational Teacher, Leader, Speaker and International Best-Selling Author, Creator of Diamond Feng Shui, Diamond Dowsing and Inner Diamond Meditation Programs. She is also the only European star in the worldwide phenomenon "The Secret".
She uses her extraordinary knowledge of Energy, Quantum physics, the Law of Attraction, and ancient Wisdom like Meditation, Feng Shui and Dowsing to support individuals, organizations and corporations to transform their success, financial situation, relationships, motivation and inspiration.
In addition to all these accolades, she also happens to be a dear, long-time friend to my mom and our family. It was a true honor to have Marie as a guest to share her wisdom with our audience.
WHAT YOU'LL LEARN
Marie explains what Feng Shui means.

Marie gives some examples of how can we use Feng Shui in our daily lives – and how we should always be in a "power position."

Why vision boards are important, and Marie shares a tip on how you can make your visions come true faster.

What you should do when one of your visions from your vision board comes true.

What Marie does to overcome her fears, doubts and her bad days.

Marie shares an experience in her childhood about bullying – and how her teacher helped her deal with the bullies in her school.

Marie's Big Dream!

Marie's advice to her 10-year old self.

And so much more!
RESOURCES
>> Get Eva's Free Confidence Secrets Course Here <<
If you are a long-time listener, you know that we are working on a course that we are going to launch in 2019 called the Dream Big Academy.   The first section of the course is all about this concept of self-belief. And we just completed this section!
We really want all of our Big Dreamers to have access to this information – so we are going to offer the first section for FREE for a limited time.  It is essentially its own course on confidence — with over 1 hour of videos with Eva teaching on the subject!  We hired an amazing illustrator who helped us with the videos and accompanying worksheets. We are so incredibly proud of this content and know it can have a huge impact.   We hear from so many listeners who say that their kids really connect with Eva since she is a peer – and we know that this same connection will carry over to the course. To access this free confidence course, please go to DreamBigPodcast.com/Beta
>> Get Eva's Free Confidence Secrets Course Here <<
BECOME A DREAM BIG INSIDER
CLAIM YOUR FREE DREAM BIG JOURNAL

We are currently offering a FREE & PERSONALIZED Dream Big Journal to say thank you for supporting our show.  Click the link above to claim your journal while this special offer is still available.
THANK YOU FOR LISTENING — SUBSCRIBE & LEAVE A HONEST REVIEW. GET FREE PERSONALIZED STICKERS!
To get Dream Big episodes sent directly to your device as they are published, you can subscribe:
Subscribe and listen to the DREAM BIG Podcast on:
iTunes  |  Stitcher  |  Google Play Music  |  Soundcloud  |  iHeartRadio  |  Spotify
If you received value from our podcast, we would greatly appreciate if you could take a minute to leave us a review on iTunes review on iTunes here. This helps us get more exposure for the podcast and in turn allows us to inspire more people to dream big. We read each and every review and are so grateful to our listeners who have taken the time to write us one. For a limited time only, as a way to say thank you for taking the time to leave an honest review, we will mail you 48 free personalized stickers! Follow the instructions at DreamBigPodcast.com/bonus to get your free stickers!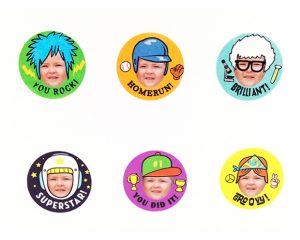 Thanks again for all of your amazing support.
Share this: