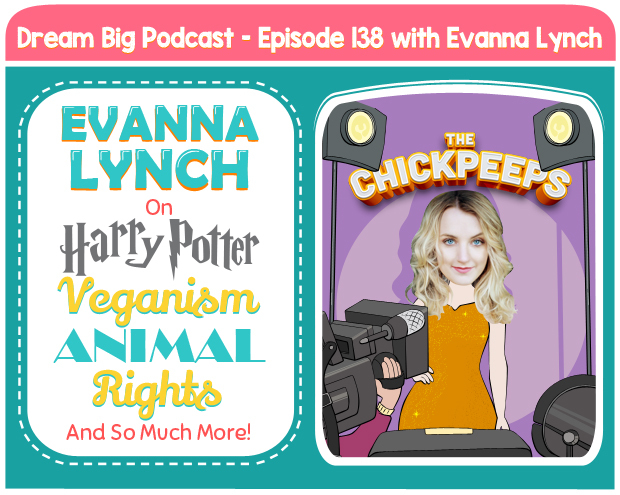 Share this: 
LISTEN TO OUR PODCAST
Subscribe and listen to the DREAM BIG Podcast on:
iTunes  |  Stitcher  |  Google Play Music  |  Soundcloud  |  iHeartRadio  |  Spotify
TODAY'S GUEST
This week's episode is truly special. Eva gets excited for all of her interviews, but the truth is that she is usually not very familiar with our typical guest's career when we start the process of preparing for an interview. Eva is curious by nature, so she becomes more and more interested in the guest as we do our research. But in this instance, Eva actually requested that we reach out to Evanna Lynch, one of her favorite actresses from the Harry Potter films, to see if she would be our guest. When we got confirmation from Evanna's lovely assistant Lucy that Evanna would love to be on the Dream Big Podcast, Eva was beyond thrilled. She actually jumped for joy. It is moments like that — when we see Eva's pure excitement in getting to talk one-on-one with someone she truly admires like Evanna Lynch — when we realize how truly amazing this experience has been for Eva to host the Dream Big Podcast.
Of course, Eva could not wait to get the inside scoop from Evanna on what it was like to play Luna Lovegood in the Harry Potter movies. But as you'll see, she also enjoyed learning about Evanna's other passions and current projects. Thank you so much to Evanna for being Eva's guest, and to Lucy for getting it scheduled. We are so grateful for the opportunity, and know that all the Big Dreamers in our audience will love the conversation.
WHAT YOU'LL LEARN
Where Evanna grew up as a young child, and how old she was when she first started acting.

How Evanna felt in her first days on set when she found herself actually acting with Daniel Radcliffe, Emma Watson, Rupert Grint, and the rest of the amazing cast.

Evanna shares her favorite memories and experiences from the sets of Harry Potter.

What Evanna told J.K. Rowling the first time she met J.K.

The Harry Potter cast members who Evanna remains in close contact with.

Evanna shares what it is like to audition for roles where she does not get the part — and how she has been able to keep her head up and keep at it even when she doesn't get a role she is excited for.

Evanna shares how she became an activist for animal rights.

Evanna explains what veganism is.

Why she started the podcast Chick Peeps, and how the experience has been thus far.

Why Evanna started a company, Kinder Beauty Box, that sends monthly beauty products that are vegan and cruelty free.

What made Evanna decide to be a participant in Dancing With The Stars and lessons that she learned from the experience.

Evanna's favorite thing to do when she's not working.

Evanna's advice to her 10-year old self.

The trait that Evanna has that enabled her to take her big dreams and make them a reality.

Evanna's Big Dream for the future!

And so much more!
RESOURCES
>> Get Eva's Free Confidence Secrets Course Here <<
If you are a long-time listener, you know that we are working on a course that we are going to launch in 2019 called the Dream Big Academy.   The first section of the course is all about this concept of self-belief. And we just completed this section!
We really want all of our Big Dreamers to have access to this information – so we are going to offer the first section for FREE for a limited time.  It is essentially its own course on confidence — with over 1 hour of videos with Eva teaching on the subject!  We hired an amazing illustrator who helped us with the videos and accompanying worksheets. We are so incredibly proud of this content and know it can have a huge impact.   We hear from so many listeners who say that their kids really connect with Eva since she is a peer – and we know that this same connection will carry over to the course. To access this free confidence course, please go to DreamBigPodcast.com/Beta
>> Get Eva's Free Confidence Secrets Course Here <<
BECOME A DREAM BIG INSIDER
CLAIM YOUR FREE DREAM BIG JOURNAL

We are currently offering a FREE & PERSONALIZED Dream Big Journal to say thank you for supporting our show.  Click the link above to claim your journal while this special offer is still available.
THANK YOU FOR LISTENING — SUBSCRIBE & LEAVE A HONEST REVIEW. GET FREE PERSONALIZED STICKERS!
To get Dream Big episodes sent directly to your device as they are published, you can subscribe:
Subscribe and listen to the DREAM BIG Podcast on:
iTunes  |  Stitcher  |  Google Play Music  |  Soundcloud  |  iHeartRadio  |  Spotify
If you received value from our podcast, we would greatly appreciate if you could take a minute to leave us a review on iTunes review on iTunes here. This helps us get more exposure for the podcast and in turn allows us to inspire more people to dream big. We read each and every review and are so grateful to our listeners who have taken the time to write us one. For a limited time only, as a way to say thank you for taking the time to leave an honest review, we will mail you 48 free personalized stickers! Follow the instructions at DreamBigPodcast.com/bonus to get your free stickers!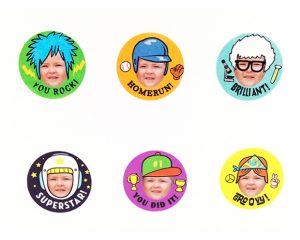 Thanks again for all of your amazing support.
Share this: