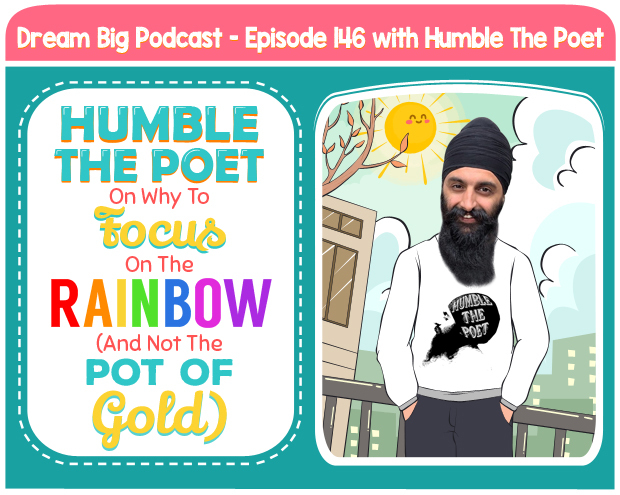 Share this: 
LISTEN TO OUR PODCAST
Subscribe and listen to the DREAM BIG Podcast on:
iTunes  |  Stitcher  |  Google Play Music  |  Soundcloud  |  iHeartRadio  |  Spotify
TODAY'S GUEST
Kanwer Singh aka Humble The Poet is a toronto-bred mc/spoken word artist with an aura that embodies the diversity and resiliency of one of the world's most unique cities. With tattoos, beard, head wrap and a silly smile, Humble commands attention. He stimulates audiences with ideas that challenge conventional wisdom and go against the grain, with dynamic live sets that shake conventions and minds at the same time.
Humble's first book Unlearn: 101 Simple Truths For A Better Life is a best-seller that has been widely praised. His next book Things No One Else Can Teach Us will be released in fall 2019.
Eva has an absolute blast chatting with Humble. He is so easy to connect with, had great energy, and dropped so many valuable insights during this fun interview. Thank you Humble for being Eva's guest!
WHAT YOU'LL LEARN
What gave Humble the courage to make the big move from being an elementary school teacher to a full-time artist.
What Humble learned from being a teacher.
Humble explains why you should focus on the rainbow, and not the pot of gold
Why Humble thinks it is so important for everyone to keep on pushing outside their comfort zone.
How Humble manages all of his projects with the help of his team.
How Humble deals with bullies and haters in his life.
Humble shares the meaning behind Eva's favorite quote from his book, Unlearn — 101 Simple Truths for A Better Life. Specifically, the quote is: "Happiness is simply when the picture in your head does not match the picture in front of you."
Humble's advice to his 10-year old self.
How Humble overcome fears and doubts, and continues to pursue his dream.
Humble's Big Dream for the future!
And so much more!
RESOURCES
>> Get Eva's Free Confidence Secrets Course Here <<
If you are a long-time listener, you know that we are working on a course that we are going to launch in 2019 called the Dream Big Academy.   The first section of the course is all about this concept of self-belief. And we just completed this section!
We really want all of our Big Dreamers to have access to this information – so we are going to offer the first section for FREE for a limited time.  It is essentially its own course on confidence — with over 1 hour of videos with Eva teaching on the subject!  We hired an amazing illustrator who helped us with the videos and accompanying worksheets. We are so incredibly proud of this content and know it can have a huge impact.   We hear from so many listeners who say that their kids really connect with Eva since she is a peer – and we know that this same connection will carry over to the course. To access this free confidence course, please go to DreamBigPodcast.com/Beta
>> Get Eva's Free Confidence Secrets Course Here <<
BECOME A DREAM BIG INSIDER
CLAIM YOUR FREE DREAM BIG JOURNAL

We are currently offering a FREE & PERSONALIZED Dream Big Journal to say thank you for supporting our show.  Click the link above to claim your journal while this special offer is still available.
THANK YOU FOR LISTENING — SUBSCRIBE & LEAVE A HONEST REVIEW. GET FREE PERSONALIZED STICKERS!
To get Dream Big episodes sent directly to your device as they are published, you can subscribe:
Subscribe and listen to the DREAM BIG Podcast on:
iTunes  |  Stitcher  |  Google Play Music  |  Soundcloud  |  iHeartRadio  |  Spotify
If you received value from our podcast, we would greatly appreciate if you could take a minute to leave us a review on iTunes review on iTunes here. This helps us get more exposure for the podcast and in turn allows us to inspire more people to dream big. We read each and every review and are so grateful to our listeners who have taken the time to write us one. For a limited time only, as a way to say thank you for taking the time to leave an honest review, we will mail you 48 free personalized stickers! Follow the instructions at DreamBigPodcast.com/bonus to get your free stickers!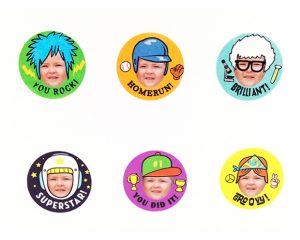 Thanks again for all of your amazing support.
Share this: