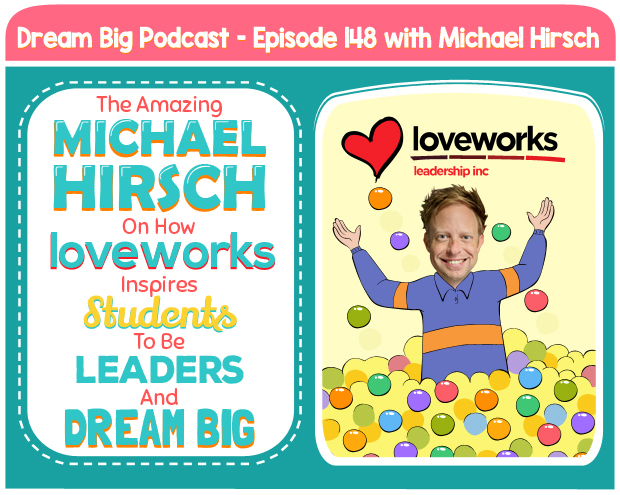 Share this: 
LISTEN TO OUR PODCAST
Subscribe and listen to the DREAM BIG Podcast on:
iTunes  |  Stitcher  |  Google Play Music  |  Soundcloud  |  iHeartRadio  |  Spotify
TODAY'S GUEST
We are so excited to introduce our Big Dreamers to the amazing Michael Hirsch and the incredible organization he runs in Oklahoma called Loveworks. We know that Michael is amazing and Loveworks is incredible because we actually flew to Oklahoma a few months ago to meet Michael and visit the summer leadership camp that was in session at Loveworks, which coincidentally is also called Dream Big. Michael had discovered the Dream Big Podcast, and was kind enough to invite Eva to be the keynote speaker at the leadership camp. This was Eva's first experience speaking on stage, and Michael and his team could not have been more gracious.
We were blown away by the summer leadership camp, and as you'll learn in the interview, Loveworks operates an afterschool program designed to teach students leadership skills and about the growth mindset that we are so passionate about as well. We look forward to staying in touch with Michael and Loveworks, and help each other further our respective missions. Thank you again to Michael and his team for ensuring that Eva's first speaking experience was such a positive one! We will forever remember your generosity and graciousness.
WHAT YOU'LL LEARN
Michael shares the vision and mission of Loveworks.
Why Loveworks does not feel like a school at all and Michael also shares the thought process behind its design.
Michael explains why Loveworks' 1-week immersion leadership program is such an effective way for kids to learn.
Michael share some examples of businesses that Loveworks' students have created and what they learned from their experience.
Michael on why he loves doing the Ironman, and what inspired him to get started.
Michael's advice to his 10-year old self.
Michael's Big Dream for the future!
And so much more!
RESOURCES
>> Get Eva's Free Confidence Secrets Course Here <<
If you are a long-time listener, you know that we are working on a course that we are going to launch in 2019 called the Dream Big Academy.   The first section of the course is all about this concept of self-belief. And we just completed this section!
We really want all of our Big Dreamers to have access to this information – so we are going to offer the first section for FREE for a limited time.  It is essentially its own course on confidence — with over 1 hour of videos with Eva teaching on the subject!  We hired an amazing illustrator who helped us with the videos and accompanying worksheets. We are so incredibly proud of this content and know it can have a huge impact.   We hear from so many listeners who say that their kids really connect with Eva since she is a peer – and we know that this same connection will carry over to the course. To access this free confidence course, please go to DreamBigPodcast.com/Beta
>> Get Eva's Free Confidence Secrets Course Here <<
BECOME A DREAM BIG INSIDER
CLAIM YOUR FREE DREAM BIG JOURNAL

We are currently offering a FREE & PERSONALIZED Dream Big Journal to say thank you for supporting our show.  Click the link above to claim your journal while this special offer is still available.
THANK YOU FOR LISTENING — SUBSCRIBE & LEAVE A HONEST REVIEW. GET FREE PERSONALIZED STICKERS!
To get Dream Big episodes sent directly to your device as they are published, you can subscribe:
Subscribe and listen to the DREAM BIG Podcast on:
iTunes  |  Stitcher  |  Google Play Music  |  Soundcloud  |  iHeartRadio  |  Spotify
If you received value from our podcast, we would greatly appreciate if you could take a minute to leave us a review on iTunes review on iTunes here. This helps us get more exposure for the podcast and in turn allows us to inspire more people to dream big. We read each and every review and are so grateful to our listeners who have taken the time to write us one. For a limited time only, as a way to say thank you for taking the time to leave an honest review, we will mail you 48 free personalized stickers! Follow the instructions at DreamBigPodcast.com/bonus to get your free stickers!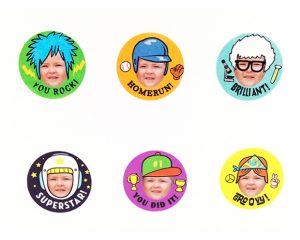 Thanks again for all of your amazing support.
Share this: