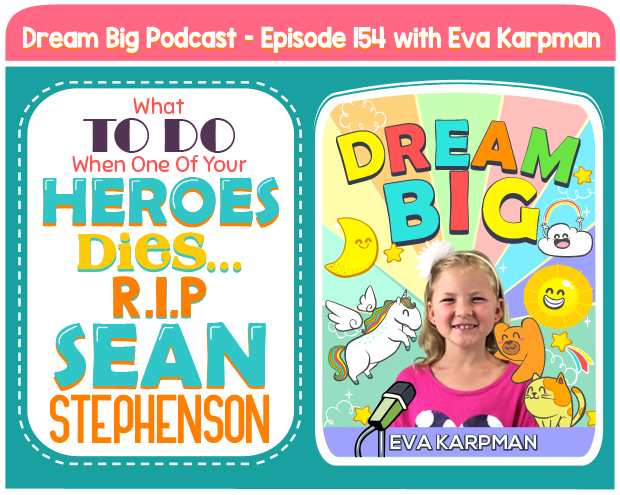 Share this: 
LISTEN TO OUR PODCAST
Subscribe and listen to the DREAM BIG Podcast on:
iTunes  |  Stitcher  |  Google Play Music  |  Soundcloud  |  iHeartRadio  |  Spotify
SOLO EPISODE FROM EVA
In this week's episode, Eva shares her feelings about the recent passing of Sean Stephensen.  This is the first time Eva has ever talked about death on the podcast, and as you know, the podcast is typically upbeat.  But Sean was a guest on the podcast and someone our whole family considered to be a hero. While those who loved Sean were devastated to learn this tragic news, Eva does have an uplifting message about how Sean's legacy can and will live on.   She also shares practical advice on how to deal with the loss of someone you admire.   
For those of you who are not familiar with Sean Stephensen,  he was born with a condition called osteogenesis imperfecta — causing him to have fragile bones that break very easily.  By the time Sean was 18 years old, he had suffered more than 200 fractures in all parts of his body. The condition also stunted Sean's growth, and as an adult Sean stood 3 feet tall and lived his life in a wheelchair.  Sean became affectionately known as a 3 foot giant, because despite all the medical challenges he has faced over his life, he made the decision to lead an extraordinary life. In the process, he inspired millions worldwide, including Sir Richard Branson, President Clinton, Tony Robbins and the Dalai Lama. 
He was also a great inspiration to our family.   Before the Dream Big Podcast had landed big name guests and racked up millions of downloads, Sean agreed to be Eva's guest.   He was so kind and gracious, and shared a powerful story that forever impacted the way our family looks at challenges (Eva shares that story on this podcast, but we encourage you to listen to the original interview).    
In the title of this episode, we refer to Sean as a hero.   He was not a hero with a cape. Far from it — he was confined to a wheelchair.  But the doctors told Sean's parents at his birth that he would live 24-48 hours.   He lived 40 years. The fact that he defied those odds and lived such an extraordinary life for that long is heroic.   And he's a hero, Eva and our whole family will never forget. All our love to his incredible wife Mindie Kniss — we are thinking of you and will never forget your amazing husband.
RESOURCES
 >> Get Eva's Free Confidence Secrets Course Here <<
If you are a long-time listener, you know that we are working on a course that we are going to launch in 2019 called the Dream Big Academy.   The first section of the course is all about this concept of self-belief. And we just completed this section!
We really want all of our Big Dreamers to have access to this information – so we are going to offer the first section for FREE for a limited time.  It is essentially its own course on confidence — with over 1 hour of videos with Eva teaching on the subject!  We hired an amazing illustrator who helped us with the videos and accompanying worksheets. We are so incredibly proud of this content and know it can have a huge impact.   We hear from so many listeners who say that their kids really connect with Eva since she is a peer – and we know that this same connection will carry over to the course. To access this free confidence course, please go to DreamBigPodcast.com/Beta
>> Get Eva's Free Confidence Secrets Course Here <<
BECOME A DREAM BIG INSIDER
CLAIM YOUR FREE DREAM BIG JOURNAL

We are currently offering a FREE & PERSONALIZED Dream Big Journal to say thank you for supporting our show.  Click the link above to claim your journal while this special offer is still available.
THANK YOU FOR LISTENING — SUBSCRIBE & LEAVE A HONEST REVIEW. GET FREE PERSONALIZED STICKERS!
To get Dream Big episodes sent directly to your device as they are published, you can subscribe:
Subscribe and listen to the DREAM BIG Podcast on:
iTunes  |  Stitcher  |  Google Play Music  |  Soundcloud  |  iHeartRadio  |  Spotify
If you received value from our podcast, we would greatly appreciate if you could take a minute to leave us a review on iTunes review on iTunes here. This helps us get more exposure for the podcast and in turn allows us to inspire more people to dream big. We read each and every review and are so grateful to our listeners who have taken the time to write us one. For a limited time only, as a way to say thank you for taking the time to leave an honest review, we will mail you 48 free personalized stickers! Follow the instructions at DreamBigPodcast.com/bonus to get your free stickers!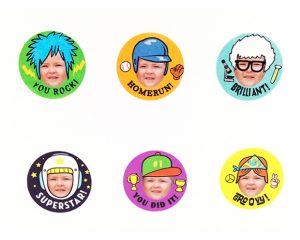 Thanks again for all of your amazing support.
Share this: