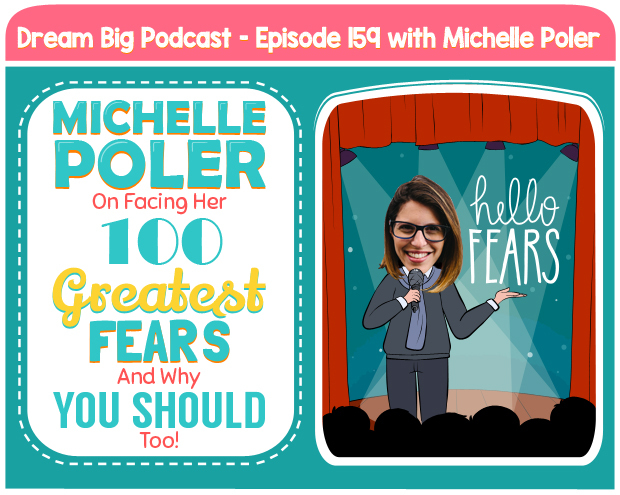 Share this: 
LISTEN TO OUR PODCAST
Subscribe and listen to the DREAM BIG Podcast on:
iTunes  |  Stitcher  |  Google Play Music  |  Soundcloud  |  iHeartRadio  |  Spotify
TODAY'S GUEST
Born and raised in Caracas-Venezuela, Michelle Poler is a creative and passionate social entrepreneur, keynote speaker, fear-facer, and branding strategist. Michelle was not always a fear-facer. In fact, as a child and young adult, Michelle avoided all her fears and did everything in her power to never step foot outside of her comfort zone. In this podcast episode, Michelle shares how an assignment she received in graduate school changed her life forever. Indeed, Michelle has become so passionate about encouraging others to face their fears that she founded Hello Fears, a social movement that has reached over 70 million people worldwide and has empowered thousands to step outside of their comfort zone and tap into their full potential.
Michelle is also the creator of the project 100 Days Without Fear. Her work has been featured on The TODAY Show, Forbes, CBS, CNN, Huffington Post, Buzzfeed, Fox News, Telemundo, Glamour, Elle, The Rachael Ray Show, Refinery29, and Daily Mail among many others.
WHAT YOU'LL LEARN
How Michelle avoided her fears and pushing outside of her comfort zone both as a child and as a young adult. 

The "100 Days Without Fear" assignment that changed Michelle's life forever.  

Why the enemy of success is not failure, but comfort.

Specific tips for young big dreamers who are scared of riding roller coasters.

Michelle on her Ted Talk experience, and how that led her to have a public speaking career.

Actionable tips for our young Big Dreamers who are scared to speak in front of their class.

The pride Michell feels towards

Hello Fears

, the movement she founded which encourages others to face their fears and grow.

Michelle's advice to her 10-year old self.

The trait that enabled Michelle to take her big dreams and make them a reality.

How Michelle overcome her fears and doubts.

Michelle's Big Dream for the future.

And so much more!
RESOURCES

>> Get Eva's Free Confidence Secrets Course Here <<
If you are a long-time listener, you know that we are working on a course that we are going to launch in 2019 called the Dream Big Academy.   The first section of the course is all about this concept of self-belief. And we just completed this section!
We really want all of our Big Dreamers to have access to this information – so we are going to offer the first section for FREE for a limited time.  It is essentially its own course on confidence — with over 1 hour of videos with Eva teaching on the subject!  We hired an amazing illustrator who helped us with the videos and accompanying worksheets. We are so incredibly proud of this content and know it can have a huge impact.   We hear from so many listeners who say that their kids really connect with Eva since she is a peer – and we know that this same connection will carry over to the course. To access this free confidence course, please go to DreamBigPodcast.com/Beta
>> Get Eva's Free Confidence Secrets Course Here <<
BECOME A DREAM BIG INSIDER
CLAIM YOUR FREE DREAM BIG JOURNAL

We are currently offering a FREE & PERSONALIZED Dream Big Journal to say thank you for supporting our show.  Click the link above to claim your journal while this special offer is still available.
THANK YOU FOR LISTENING — SUBSCRIBE & LEAVE A HONEST REVIEW. GET FREE PERSONALIZED STICKERS!
To get Dream Big episodes sent directly to your device as they are published, you can subscribe:
Subscribe and listen to the DREAM BIG Podcast on:
iTunes  |  Stitcher  |  Google Play Music  |  Soundcloud  |  iHeartRadio  |  Spotify
If you received value from our podcast, we would greatly appreciate if you could take a minute to leave us a review on iTunes review on iTunes here. This helps us get more exposure for the podcast and in turn allows us to inspire more people to dream big. We read each and every review and are so grateful to our listeners who have taken the time to write us one. For a limited time only, as a way to say thank you for taking the time to leave an honest review, we will mail you 48 free personalized stickers! Follow the instructions at DreamBigPodcast.com/bonus to get your free stickers!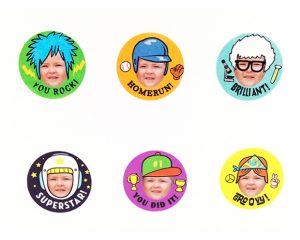 Thanks again for all of your amazing support.
Share this: