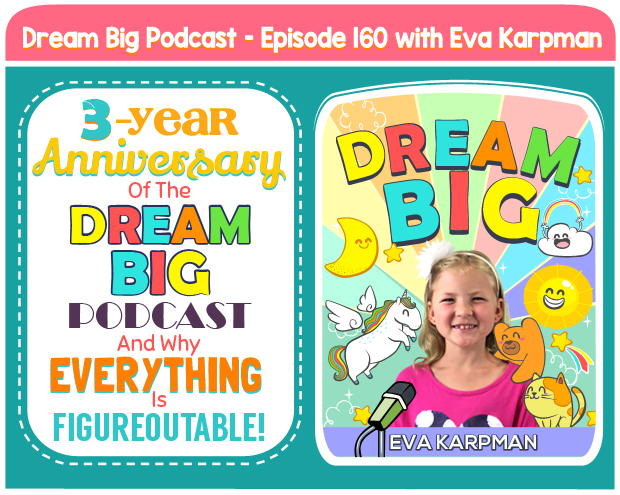 Share this: 
LISTEN TO OUR PODCAST
Subscribe and listen to the DREAM BIG Podcast on:
iTunes  |  Stitcher  |  Google Play Music  |  Soundcloud  |  iHeartRadio  |  Spotify
SOLO EPISODE FROM EVA
It is simply amazing that it has been 3 years since we launched the Dream Big Podcast. Our very first show, Episode #1 was published on October 19, 2016. Whether you have been part of Eva's journey since 2016, or have just recently learned about the podcast — we wanted to thank each and every one of you Big Dreamers for listening to the podcast, for supporting the show, and for being Eva's inspiration to continue to record new episodes each and every week. We are proud to say that Eva has not missed a single Monday since we launched the podcast in 2016. Not a single one!
In this episode, Eva reflects on the 3-year anniversary and explains how adopting the mantra "Everything is Figureoutable" (the title of Marie Forleo's new bestselling book) has been the key secret to launching the podcast and keeping it going the last 3 years. She also shares some historical examples of how our world has been forever changed by people who adopted the "everything is figureoutable" mindset, and how adopting that core belief is essential for you to accomplish your Big Dreams. Thanks again for 3 great years of the Dream Big Podcast, and we look forward to another 3 great years and beyond!
RESOURCES
>> Get Eva's Free Confidence Secrets Course Here <<
BECOME A DREAM BIG INSIDER
CLAIM YOUR FREE DREAM BIG JOURNAL

We are currently offering a FREE & PERSONALIZED Dream Big Journal to say thank you for supporting our show.  Click the link above to claim your journal while this special offer is still available.
THANK YOU FOR LISTENING — SUBSCRIBE & LEAVE A HONEST REVIEW. GET FREE PERSONALIZED STICKERS!
To get Dream Big episodes sent directly to your device as they are published, you can subscribe:
Subscribe and listen to the DREAM BIG Podcast on:
iTunes  |  Stitcher  |  Google Play Music  |  Soundcloud  |  iHeartRadio  |  Spotify
If you received value from our podcast, we would greatly appreciate if you could take a minute to leave us a review on iTunes review on iTunes here. This helps us get more exposure for the podcast and in turn allows us to inspire more people to dream big. We read each and every review and are so grateful to our listeners who have taken the time to write us one. For a limited time only, as a way to say thank you for taking the time to leave an honest review, we will mail you 48 free personalized stickers! Follow the instructions at DreamBigPodcast.com/bonus to get your free stickers!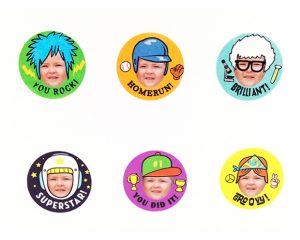 Thanks again for all of your amazing support.
Share this: