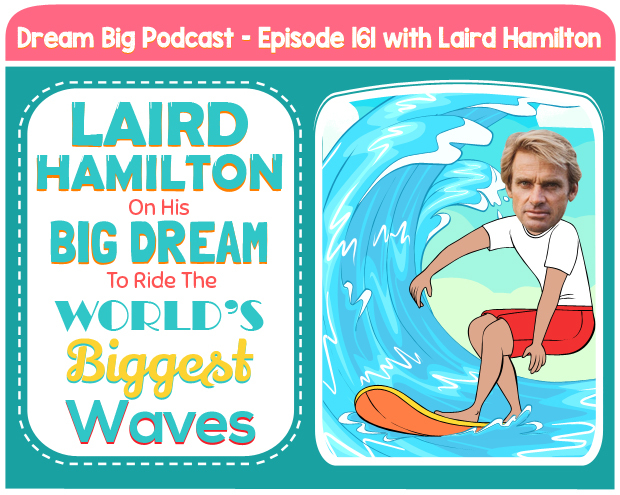 Share this: 
LISTEN TO OUR PODCAST
Subscribe and listen to the DREAM BIG Podcast on:
iTunes  |  Stitcher  |  Google Play Music  |  Soundcloud  |  iHeartRadio  |  Spotify
TODAY'S GUEST
It is not very often that Eva interviews a guest who has had multiple full-length documentary movies made about them. Usually to do her research, Eva has to find numerous videos on Youtube and read articles authored by the guest to adequately prepare for an interview. With this week's guest — Laird Hamilton — our family watched the movie: Take Every Wave: The Life of Laird Hamilton — and we immediately knew that Laird was a Big Dreamer who we would love to have on the podcast. We were thrilled when he agreed!
Laird Hamilton is best known as an American big-wave surfer and pioneer in the world of action water sports. As part of Laird's quest to ride the world's biggest waves — he actually invented new surfing techniques — including among others, tow-in surfing where a separate person on a jet ski pulls you into a wave, and also Foil Boarding — which is hard to describe but is shown in the documentary where you are actually standing on a board above the water line.
Over the last decade, Laird has transcended from surfing to become an international fitness icon and nutrition expert. Many of today's top professional athletes and celebrities look to Laird for training guidance, including instruction in his unique underwater resistance workouts.
It was a true honor to have Laird on the podcast as Eva's guest, and we know you will enjoy their conversation.
WHAT YOU'LL LEARN
Laird's childhood and how he found escape in the ocean.

How Laird always believed that he could one day get paid to do what he loves – which was surf, while doing other jobs from construction to modeling and even acting.

Laird shares his favorite quote, "All things are possible for the believers," and why it is very important to believe in yourself.

What Laird loves about Big Wave Surfing.

What drives Laird's innovative spirit and his Big Dream for how innovations like tow-in surfing and Foil Boarding will ultimately impact the sport.

How Laird balances being a dad and a husband while constantly chasing the world's biggest waves.

Laird's advice to his 10-year old self.

The trait that enabled Laird to take his big dreams and make them a reality.

How Laird overcome his fears and doubts.

Laird's Big Dream for the future.

And so much more!
RESOURCES
>> Get Eva's Free Confidence Secrets Course Here <<
If you are a long-time listener, you know that we are working on a course that we are going to launch in 2019 called the Dream Big Academy.   The first section of the course is all about this concept of self-belief. And we just completed this section!
We really want all of our Big Dreamers to have access to this information – so we are going to offer the first section for FREE for a limited time.  It is essentially its own course on confidence — with over 1 hour of videos with Eva teaching on the subject!  We hired an amazing illustrator who helped us with the videos and accompanying worksheets. We are so incredibly proud of this content and know it can have a huge impact.   We hear from so many listeners who say that their kids really connect with Eva since she is a peer – and we know that this same connection will carry over to the course. To access this free confidence course, please go to DreamBigPodcast.com/Beta
>> Get Eva's Free Confidence Secrets Course Here <<
BECOME A DREAM BIG INSIDER
CLAIM YOUR FREE DREAM BIG JOURNAL

We are currently offering a FREE & PERSONALIZED Dream Big Journal to say thank you for supporting our show.  Click the link above to claim your journal while this special offer is still available.
THANK YOU FOR LISTENING — SUBSCRIBE & LEAVE A HONEST REVIEW. GET FREE PERSONALIZED STICKERS!
To get Dream Big episodes sent directly to your device as they are published, you can subscribe:
Subscribe and listen to the DREAM BIG Podcast on:
iTunes  |  Stitcher  |  Google Play Music  |  Soundcloud  |  iHeartRadio  |  Spotify
If you received value from our podcast, we would greatly appreciate if you could take a minute to leave us a review on iTunes review on iTunes here. This helps us get more exposure for the podcast and in turn allows us to inspire more people to dream big. We read each and every review and are so grateful to our listeners who have taken the time to write us one. For a limited time only, as a way to say thank you for taking the time to leave an honest review, we will mail you 48 free personalized stickers! Follow the instructions at DreamBigPodcast.com/bonus to get your free stickers!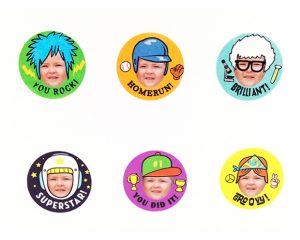 Thanks again for all of your amazing support.
Share this: