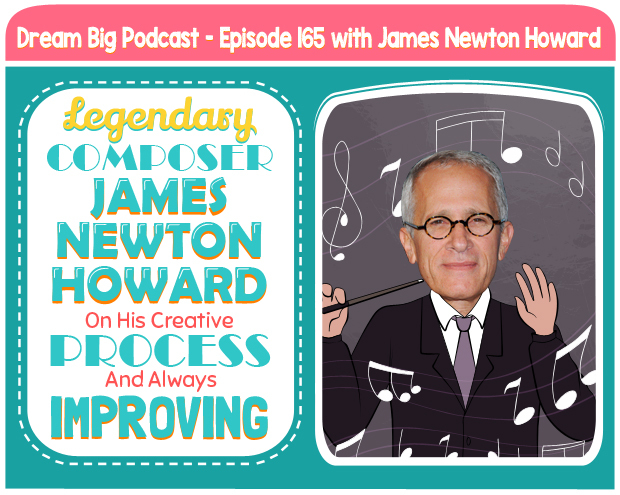 Share this: 
LISTEN TO OUR PODCAST
Subscribe and listen to the DREAM BIG Podcast on:
iTunes  |  Stitcher  |  Google Play Music  |  Soundcloud  |  iHeartRadio  |  Spotify
TODAY'S GUEST
It is a true honor to have one of Hollywood's most prolific and accomplished composers on the Dream Big Podcast this week. James Newton Howard's career spans over thirty years. He has composed music for over 120 films, including the Academy Award-nominated scores for Defiance, Michael Clayton, The Village, The Fugitive, The Prince of Tides, and My Best Friend's Wedding, and Academy Award-nominated songs for Junior and One Fine Day. James also received Golden Globe nominations for his massive orchestral score for Peter Jackson's blockbuster remake of King Kong, his provocative symphonic score for Defiance, and his songs from Junior and One Fine Day.
Our Big Dreamers can learn so much from Eva's interview with James. For instance, James famously wrote 3 hours of music for King Kong in just 5 weeks. It takes an incredible work ethic and dedication to pull off such a feat on a tight deadline. James also shares the importance of teamwork and all the incredibly talented people involved in a major Hollywood production. As we often say, you can't accomplish your Big Dreams alone. And James shares that even after his prolific 30+ year career in Hollywood, he is still striving to improve his craft with each and every project. Big Dreamers don't believe in perfection and are always looking to grow. There are so many nuggets to be learned! Enjoy the interview 🙂
WHAT YOU'LL LEARN
The interesting (and unexpected) story of how James started his career in film composing.

James explains the analogy of how composing his music is just like his wife's cooking.

James' experience on writing music for the movie King Kong, where he only had 5 weeks to write nearly 3 hours of music.

James' thoughts on deadlines and why he thinks they're important.

James shares just how big of a team effort it is to put together a movie's soundtrack.

Why people tend to take the music/soundtrack of a movie for granted. 

Why James wants to work on the Fantastic Beasts movies (Eva loves the Fantastic Beast series so was super excited to learn he scored the films!).

What drives James to keep composing for movies, and how he strives to always become better.

James' advice to his 10-year old self. 

How James overcome his fears and doubts.

James' Big Dream for the future.

And so much more!
RESOURCES
 >> Get Eva's Free Confidence Secrets Course Here <<
If you are a long-time listener, you know that we are working on a course that we are going to launch in 2019 called the Dream Big Academy.   The first section of the course is all about this concept of self-belief. And we just completed this section!
We really want all of our Big Dreamers to have access to this information – so we are going to offer the first section for FREE for a limited time.  It is essentially its own course on confidence — with over 1 hour of videos with Eva teaching on the subject!  We hired an amazing illustrator who helped us with the videos and accompanying worksheets. We are so incredibly proud of this content and know it can have a huge impact.   We hear from so many listeners who say that their kids really connect with Eva since she is a peer – and we know that this same connection will carry over to the course. To access this free confidence course, please go to DreamBigPodcast.com/Beta
>> Get Eva's Free Confidence Secrets Course Here <<
BECOME A DREAM BIG INSIDER
CLAIM YOUR FREE DREAM BIG JOURNAL

We are currently offering a FREE & PERSONALIZED Dream Big Journal to say thank you for supporting our show.  Click the link above to claim your journal while this special offer is still available.
THANK YOU FOR LISTENING — SUBSCRIBE & LEAVE A HONEST REVIEW. GET FREE PERSONALIZED STICKERS!
To get Dream Big episodes sent directly to your device as they are published, you can subscribe:
Subscribe and listen to the DREAM BIG Podcast on:
iTunes  |  Stitcher  |  Google Play Music  |  Soundcloud  |  iHeartRadio  |  Spotify
If you received value from our podcast, we would greatly appreciate if you could take a minute to leave us a review on iTunes review on iTunes here. This helps us get more exposure for the podcast and in turn allows us to inspire more people to dream big. We read each and every review and are so grateful to our listeners who have taken the time to write us one. For a limited time only, as a way to say thank you for taking the time to leave an honest review, we will mail you 48 free personalized stickers! Follow the instructions at DreamBigPodcast.com/bonus to get your free stickers!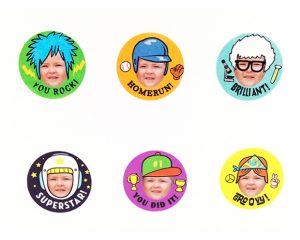 Thanks again for all of your amazing support.
Share this: