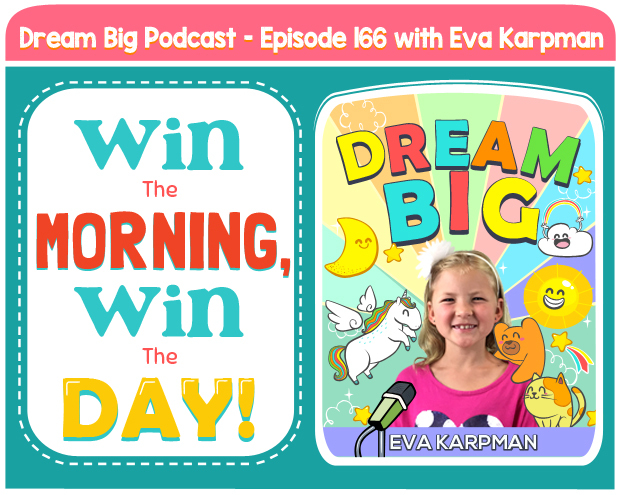 Share this: 
LISTEN TO OUR PODCAST
Subscribe and listen to the DREAM BIG Podcast on:
iTunes  |  Stitcher  |  Google Play Music  |  Soundcloud  |  iHeartRadio  |  Spotify
SOLO EPISODE FROM EVA
It is hard to believe we are at Episode 166 of the Dream Big Podcast, including countless interviews with so many of the world's top performers. While each guest has a unique journey — from NBA Legend Kobe Bryant to astronaut Chris Hadfiled to actress Evanna Lynch — Eva has started to notice common patterns of behavior which she has applied to her own life. For instance, so many of Eva's guests have talked about the importance of stepping outside of their comfort zone — so now Eva is always looking for ways to push outside of her comfort zone — whether that's doing Spartan races or riding the fastest roller coasters at Six Flags or running for student council representative.
Another pattern that we have noticed is that so many of our guests have a morning routine or ritual. Essentially, the 1st hour of their day is very much the same, each and every day. As long-time listeners of Tim Ferriss' podcast, we know that Tim has asked hundreds of the world's best if they have morning routines, and virtually all of the guests have confirmed that they do. So in this episode, Eva shares why she decided to develop her own morning ritual and the 5 key elements she plans to include in her routine. Eva is super excited about this new morning ritual — and hopefully it inspires other Big Dreamers to win their morning as well. Because when you win the morning, you are setting yourself up to win the day!
RESOURCES
 >> Get Eva's Free Confidence Secrets Course Here <<
BECOME A DREAM BIG INSIDER
CLAIM YOUR FREE DREAM BIG JOURNAL

We are currently offering a FREE & PERSONALIZED Dream Big Journal to say thank you for supporting our show.  Click the link above to claim your journal while this special offer is still available.
THANK YOU FOR LISTENING — SUBSCRIBE & LEAVE A HONEST REVIEW. GET FREE PERSONALIZED STICKERS!
To get Dream Big episodes sent directly to your device as they are published, you can subscribe:
Subscribe and listen to the DREAM BIG Podcast on:
iTunes  |  Stitcher  |  Google Play Music  |  Soundcloud  |  iHeartRadio  |  Spotify
If you received value from our podcast, we would greatly appreciate if you could take a minute to leave us a review on iTunes review on iTunes here. This helps us get more exposure for the podcast and in turn allows us to inspire more people to dream big. We read each and every review and are so grateful to our listeners who have taken the time to write us one. For a limited time only, as a way to say thank you for taking the time to leave an honest review, we will mail you 48 free personalized stickers! Follow the instructions at DreamBigPodcast.com/bonus to get your free stickers!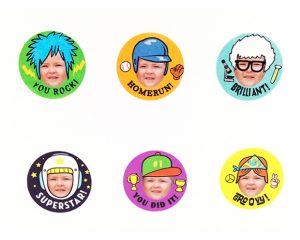 Thanks again for all of your amazing support.
Share this: