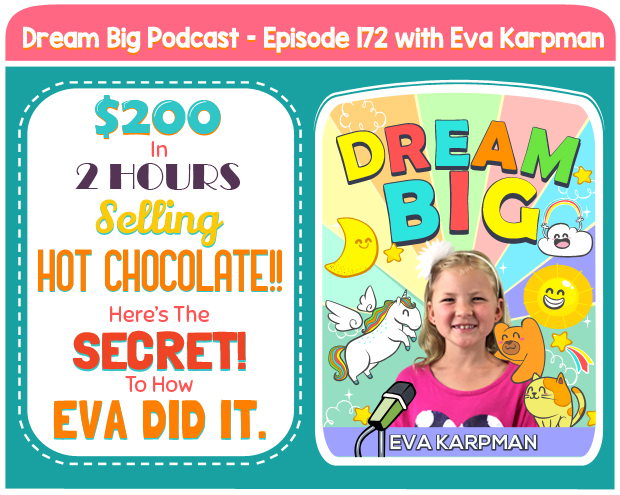 Share this: 
LISTEN TO OUR PODCAST
Subscribe and listen to the DREAM BIG Podcast on:
iTunes  |  Stitcher  |  Google Play Music  |  Soundcloud  |  iHeartRadio  |  Spotify
SOLO EPISODE FROM EVA
Eva had been asking for some time now if we could find an afternoon to set-up a hot cocoa stand in front of our house.   Last Saturday, we finally had a day with no major plans on the calendar so we made it happen First, I'll tell you what we did NOT do.  We did NOT sell hot cocoa for 25 cents, 50 cents, or even a dollar. We did NOT set up just a table with a basic cardboard sign. Let's just say this was NOT your typical hot cocoa stand.  We had our youngest daughter Sophia singing and waving to convince cars to stop by. We had a live chicken taking pictures at our stand (I'm not joking). And yes, we had hot cocoa. But that was definitely not the main attraction.  
In just over 2 hours, Eva and Sophia had collected over $200 in front of our house, which gets very little foot and car traffic.  Oh, and it wasn't even a cold day so the conditions were not ideal for Hot Cocoa. In this episode, Eva shares the secret to the smashing success of her hot cocoa stand.  Our 3-part strategy can be used in ANY business (hint: this episode is great for our kid and adult Big Dreamers). Please enjoy this deliciously entertaining episode!
BECOME A DREAM BIG INSIDER
CLAIM YOUR FREE DREAM BIG JOURNAL

We are currently offering a FREE & PERSONALIZED Dream Big Journal to say thank you for supporting our show.  Click the link above to claim your journal while this special offer is still available.
THANK YOU FOR LISTENING — SUBSCRIBE & LEAVE A HONEST REVIEW. GET FREE PERSONALIZED STICKERS!
To get Dream Big episodes sent directly to your device as they are published, you can subscribe:
Subscribe and listen to the DREAM BIG Podcast on:
iTunes  |  Stitcher  |  Google Play Music  |  Soundcloud  |  iHeartRadio  |  Spotify
If you received value from our podcast, we would greatly appreciate if you could take a minute to leave us a review on iTunes review on iTunes here. This helps us get more exposure for the podcast and in turn allows us to inspire more people to dream big. We read each and every review and are so grateful to our listeners who have taken the time to write us one. For a limited time only, as a way to say thank you for taking the time to leave an honest review, we will mail you 48 free personalized stickers! Follow the instructions at DreamBigPodcast.com/bonus to get your free stickers!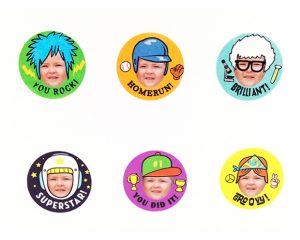 Thanks again for all of your amazing support.
Share this: