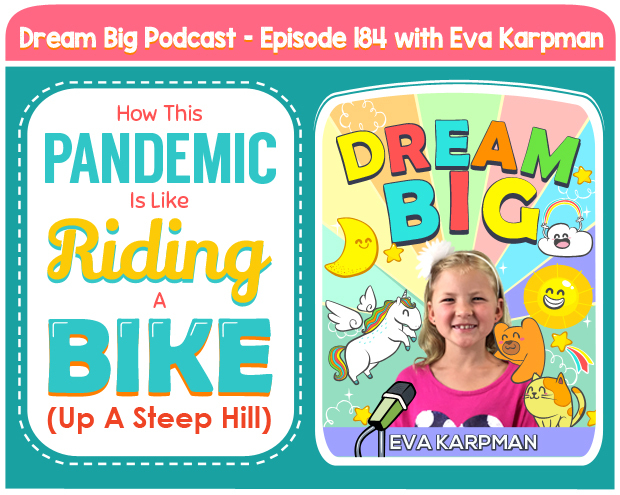 Share this: 
LISTEN TO OUR PODCAST
Subscribe and listen to the DREAM BIG Podcast on:
iTunes  |  Stitcher  |  Google Play Music  |  Soundcloud  |  iHeartRadio  |  Spotify
SOLO EPISODE FROM EVA
Ever since Eva launched the podcast in October 2016, we have published a new episode every monday.  We have not missed a single Monday since we launched because it is our commitment to all you Big Dreamers to create content that will train your brain to be strong and optimistic no matter the circumstances.   Given these challenging times and the fact that Eva is home from school, we are going to double down on our efforts and produce more content than ever before. We're not sure exactly what that will look like just yet — because we are learning as we go — but we wanted to do our part to give your families positive and inspirational messages during the Pandemic.    
Today, Eva shares a powerful metaphor for how our new reality is much like the challenge of biking up a steep hill.   We went for a bike ride this weekend to Eva's school, and had to climb a long, steep incline as we approached the school.  We had to keep moving, keep pedaling to get to our destination. If we had slowed down and stopped pedaling, we would have never made it!  The same applies here. Our families have to keep growing during these challenging times. Eva shares the story of our bike ride, and how we can all keep momentum in the weeks and months ahead as we battle and ultimately win this fight against the Corona Virus.
Finally, we put together a Resources Page with over 50 hours of content, including a collection of Eva's favorite interviews and solo episodes since launching the podcast in 2016.  In addition, you'll find a link to Eva's free fully illustrated positive mindset video course AND our free Facebook Group where our family posts live videos showing how we stay upbeat during the pandemic.   Go to DreamBigPodcast.com/resources to get access to these free resources. Our mind is like a garden. If you don't care for your garden weeds will grow, and we need to give our brains tender loving care by filling it with messages of inspiration, positive and hope.  So go to DBP.com/resources and bookmark the page to enjoy over 50 hours of Eva's favorite personal growth content.
FREE Positive Mindset course
The course contains 5 professionally illustrated video lessons (taught by Eva) and an accompanying PDF fill-in-the-blank workbook.  This is not content we rushed to put together in the last few days. It is part of a premium course we will be releasing later this year, but we know how important it is to keep a positive outlook through this ordeal so we are releasing this now FREE OF CHARGE.   
You can claim the course here now: https://dreambigpodcast.com/positivemindset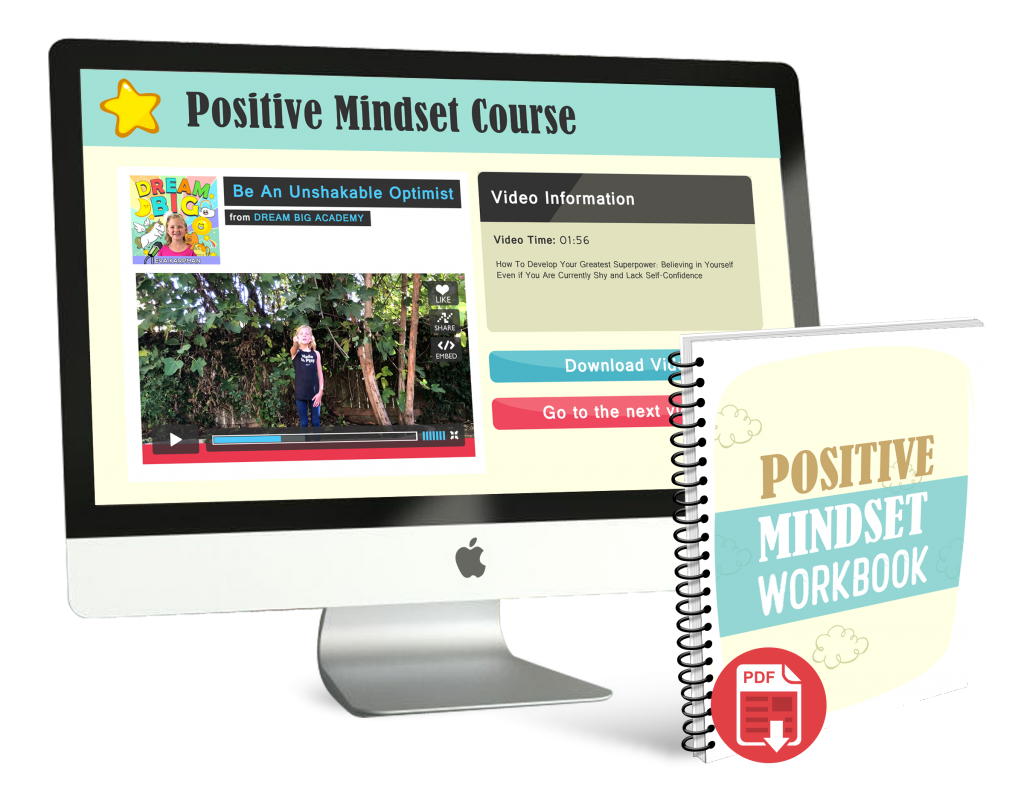 FREE Facebook Group called the Dream Big Squad
With our entire family home, we will be sharing videos showing you behind-the-scenes on how we are maintaining a good attitude during these trying times.  The podcast is audio-only so we are looking forward to sharing video content in the Group and connecting with you on a more personal level. Join the squad here:  https://www.facebook.com/groups/dreambigsquad/   
ADDED BONUS:  If you join the Group, you will see we are offering a bonus course on how kids can be more confident speakers (this is for those who leave their email address in the Group's questionnaire).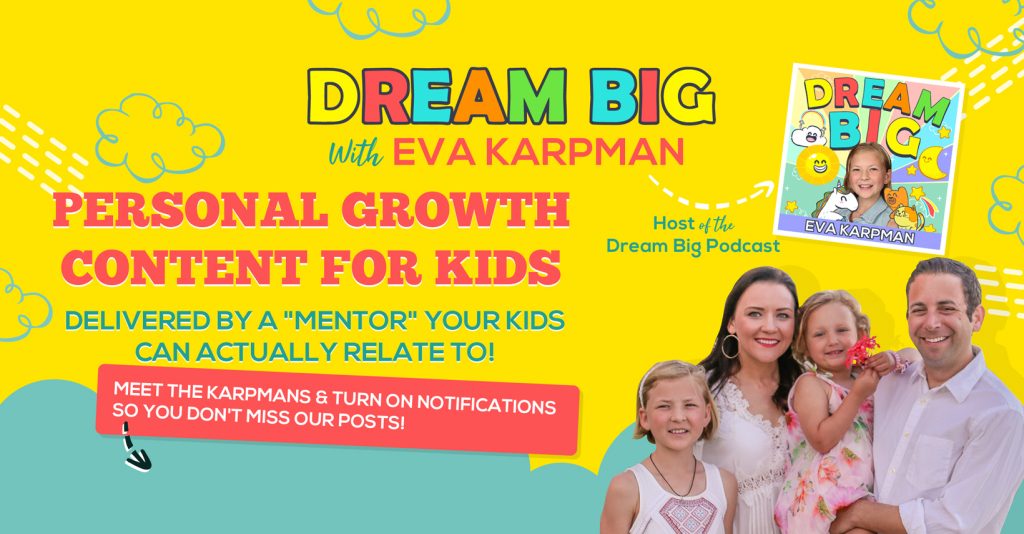 Thank you so much for being part of this community.   We will get through this together! 
THANK YOU FOR LISTENING — SUBSCRIBE & LEAVE A HONEST REVIEW.
To get Dream Big episodes sent directly to your device as they are published, you can subscribe:
Subscribe and listen to the DREAM BIG Podcast on:
iTunes  |  Stitcher  |  Google Play Music  |  Soundcloud  |  iHeartRadio  |  Spotify
If you received value from our podcast, we would greatly appreciate if you could take a minute to leave us a review on iTunes review on iTunes here. This helps us get more exposure for the podcast and in turn allows us to inspire more people to dream big. We read each and every review and are so grateful to our listeners who have taken the time to write us one. 
Thanks again for all of your amazing support.
Share this: