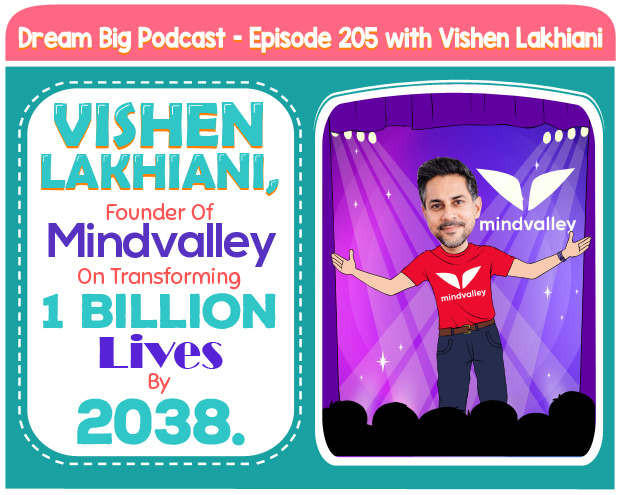 Share this: 
LISTEN TO OUR PODCAST
Subscribe and listen to the DREAM BIG Podcast on:
iTunes  |  Stitcher  |  Google Play Music  |  Soundcloud  |  iHeartRadio  |  Spotify
TODAY'S GUEST
If you are interested in Personal Growth content, then this weeks' guest is an absolute rockstar. Vishen Lakhiani famously quit his prestigious engineering internship at Microsoft after 11 short weeks, which forced him to set out on his own personal growth journey and ultimately led to the founding of MindValley.
Now the #1 platform in the world for Personal Growth, MindValley brings together the worlds best practitioners to teach personal growth principles with the mission to transform 1 Billion lives by 2038. As you will no doubt agree after this interview, Vishen is very serious about this Big Dream, and he has the plan and skills to make that dream a reality.
MindValley is currently offering a program called Be Extraordinary for Teens, which at the time of this publication is free. We are including links in the Resources section below to that program, as well as to Vishen and MindValley's websites.
Thank you Vishen for being Eva's guest on the Dream Big Podcast!
WHAT YOU'LL LEARN
How long Vishen worked for Microsoft.

What culturescape means, and what living in so many different countries has taught Vishen.

Vishen explains the two types of truth — absolute truth and relative truth. 

What Amor Fati means and why it is such a powerful guiding principle in Vishen's life.

How focusing on personal growth for 20 minutes a day can change the course of your life forever.

Why Vishen started his company, Mindvalley, and its driving mission.

Vishen's new program, Be Extraordinary For Teens (see link in Resources section below).

Vishen describes the unique design of Mindvalley's award-winning offices, and why he created it that way.

Vishen's Big Dream for the future.

And so much more!
RESOURCES
Not sure where to get started?
It is as easy as 1, 2, 3.
Step 1 – Enjoy These FREE Resources:
Step 2 – Subscribe To The Dream Big Podcast 
Step 3 – Connect With Our Community 
Share this: