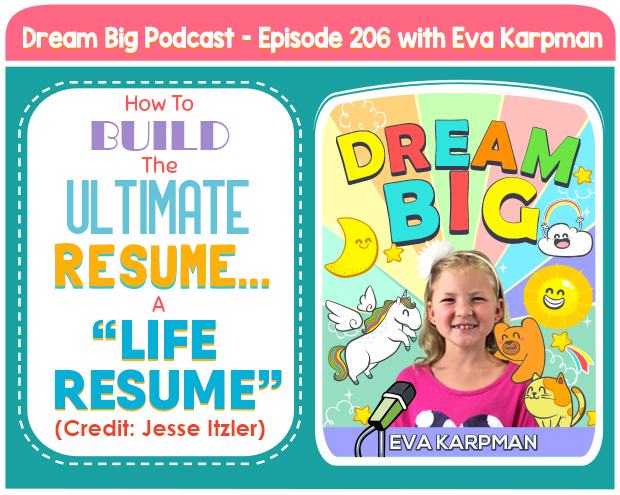 Share this: 
LISTEN TO OUR PODCAST
Subscribe and listen to the DREAM BIG Podcast on:
iTunes  |  Stitcher  |  Google Play Music  |  Soundcloud  |  iHeartRadio  |  Spotify
SOLO EPISODE FROM EVA
In today's episode, Eva shares a concept that our family learned from an incredible man by the name of Jesse Itzler.   If you follow Jesse on social media, you know that he is always smiling, always laughing, and always having epic experiences.   This is no accident — Jesse is committed to building what he calls a "Life Resume."  Not the traditional resume that most people think about that lists your work experience when you are applying for a job, but a resume that reflects all the amazing and unique experiences you have created in your life.   
Jesse's personal life resume is chock-full of unique experiences that the vast majority of people would, quite frankly, not voluntarily sign up for…  Like the time Jesse invited a Navy Seal to live in his house for 31 days to push him to his mental and physical limits.  But Jesse is not encouraging his community to copy his resume — but instead to build your own life resume that you can look back and marvel at one day.   
Jesse's concept of the Life Resume has deeply impacted our entire family — including Eva and our youngest daughter Sophia who have both adopted this mindset of seeking out new skills and new adventures.  Eva shares in this episode how she has already started to build out her Life Resume, how she continues to do so even during this pandemic, and how having the "Build Your Life Resume" mindset leads to actually scheduling epic experiences and making them happen.   We hope to have Jesse on the podcast one day in the future to teach us more about his Build Your Life Resume concept and share his own incredible journey thus far in life.
Not sure where to get started?
It is as easy as 1, 2, 3.
Step 1 – Enjoy These FREE Resources:
Step 2 – Subscribe To The Dream Big Podcast
Step 3 – Connect With Our Community
Share this: