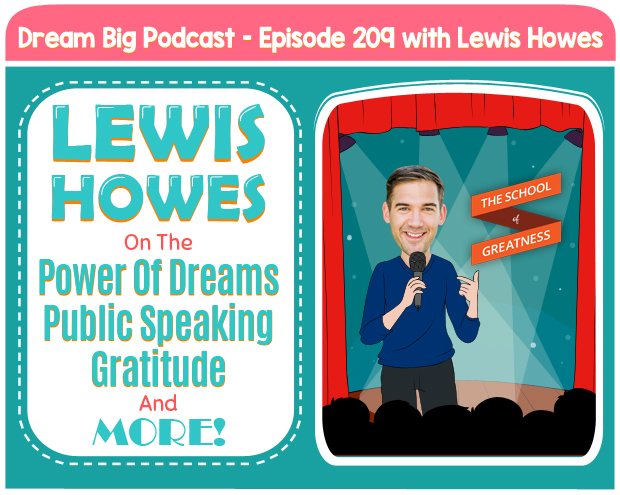 Share this: 
LISTEN TO OUR PODCAST
Subscribe and listen to the DREAM BIG Podcast on:
iTunes  |  Stitcher  |  Google Play Music  |  Soundcloud  |  iHeartRadio  |  Spotify
TODAY'S GUEST
Today's guest is Lewis Howes, the host of the School of Greatness podcast which has over 100 million downloads and 1000 episodes since it launched in 2013. Lewis was one of the inspirations for Eva to launch the Dream Big Podcast. We would often listen to Lewis Howes and another podcaster Tim Ferriss in the car, and one day Eva asked: "Mom and Dad, why is there not a podcast where a kid interviews amazing people?" And of course, the rest is history.
Lewis is more than a podcaster. He is a bestselling author. He was named by The White House and President Obama as one of the top 100 entrepreneurs in the country under 30. And he has been featured on Ellen, The Today Show, The New York Times, and in other major media outlets. Eva and Lewis had an amazing conversation which we actually recorded on video — so in addition to being able to listen to the interview on your favorite podcast platform — you can also watch the full interview on Youtube.
WHAT YOU'LL LEARN
How Lewis was going down a dangerous path in childhood, and how embracing dreams and goals changed everything for him.
How a career-ending injury killed his dream of playing in the NFL, but ended up changing the course of his life in a positive way.
The story of how Lewis became a confident speaker and how that skill has helped him in life.
Why it is essential not to let other people define who you should be!
Why you should help people without expecting anything in return.
How Lewis visualized being on The Ellen DeGeneres Show and how long it took for that to become a reality.
Lewis shares why gratitude is such a powerful emotion and how it changed his life to practice gratitude daily.
Lewis' Big Dream for the future.
And so much more!
RESOURCES
Not sure where to get started?
It is as easy as 1, 2, 3.
Step 1 – Enjoy These FREE Resources:
Step 2 – Subscribe To The Dream Big Podcast 
Step 3 – Connect With Our Community 
Share this: