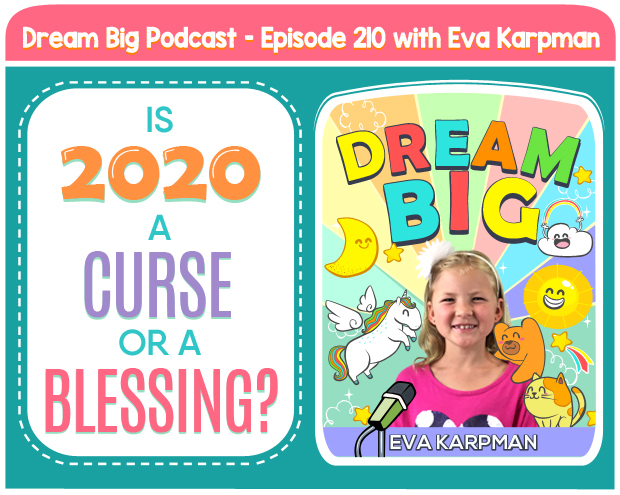 Share this: 
LISTEN TO OUR PODCAST
Subscribe and listen to the DREAM BIG Podcast on:
iTunes  |  Stitcher  |  Google Play Music  |  Soundcloud  |  iHeartRadio  |  Spotify
SOLO EPISODE FROM EVA
Eva has long shared the importance of being an optimist — the kind of person who sees a glass half full – rather than a pessimist — who sees the glass as half empty.   There are so many reasons you can easily take a "glass half empty" outlook to 2020.   Dean Graziozi, bestselling author and entrepreneur, recently poised the following question to his audience:  Is 2020 a curse or can it be a blessing?  
Well as Eva shares in this episode, the answer to that question is entirely up to you!   Of course, Eva wishes that COVID-19 did not happen this year.  Eva misses school, her friends, and there are so many people across the world who are suffering as a result of this terrible disease. Nobody wished for this to happen.   But it did!  Given that we just recently passed the midway point of the year — it seemed appropriate for Eva to share her "glass half full" mentality for 2020.  Eva shares the new skills and passions that she is developing during this unprecedented year, and how with the right mindset 2020 can indeed be viewed as a blessing.   A special thank you to Dean Grazioizi for inspiring this episode 🙂
Not sure where to get started?
It is as easy as 1, 2, 3.
Step 1 – Enjoy These FREE Resources:
Step 2 – Subscribe To The Dream Big Podcast
Step 3 – Connect With Our Community
Share this: