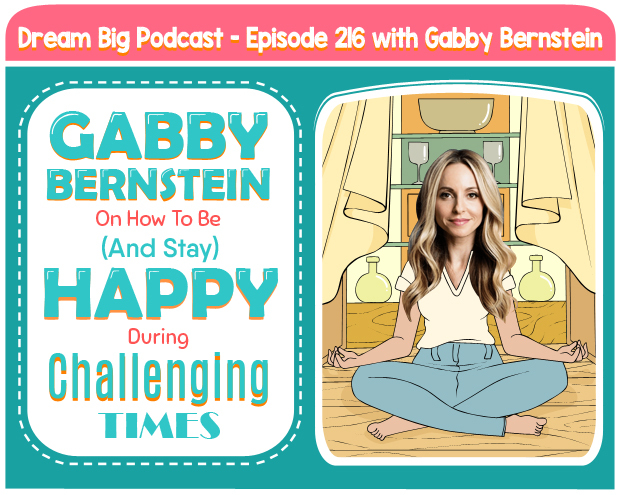 Share this: 
LISTEN TO OUR PODCAST
Subscribe and listen to the DREAM BIG Podcast on:
iTunes  |  Stitcher  |  Google Play Music  |  Soundcloud  |  iHeartRadio  |  Spotify
TODAY'S GUEST
Today, Eva welcomes Gabby Bernstein, a #1 New York Times Bestselling author (many times over), and one of the world's leading authorities on happiness.  We are longtime admirers of Gabby's work, and actually did an entire solo episode last month (Episode 208) about her famous "comeback rate" concept.  
And now, the Big Dreamers get the gift of hearing directly from Gabby about why the "comeback rate" is so important and so many other practical tips on how to be and stay happy — especially during these crazy times.   
Gabby has a new book, You Are The Guru: 6 Messages to Help You Move Through Difficult Times with Certainty and Faith, available now on Audible.com.  Like all of Gabby's content, the new book is incredible and we would love it if you support her book launch and follow her accounts for never ending inspiration and positive vibes.  We are including links to You Are The Guru and Gabby's website in the Resources section below.
WHAT YOU'LL LEARN
The difference between achievement and being happy as a person.

Why it's never a good idea to judge people and yourself as well.

Gabby's advice for students who are feeling overwhelmed by the COVID pandemic.

How Gabby responds when people ask her if she's always happy.

The importance of having a "comeback rate."

How long Gabby visualized working with Oprah and Deepak Chopra before that dream actually became a reality — and how she made it happen.

Gabby's advice to her 11-year old self.

Gabby's Big Dream for the future.

And so much more!
RESOURCES
Not sure where to get started?
It is as easy as 1, 2, 3.
Step 1 – Enjoy These FREE Resources:
Step 2 – Subscribe To The Dream Big Podcast
Step 3 – Connect With Our Community
Share With Eva How The Dream Big Podcast Has Impacted Your Family's Life. Eva Will Respond With A Personalized Video Message 🙂