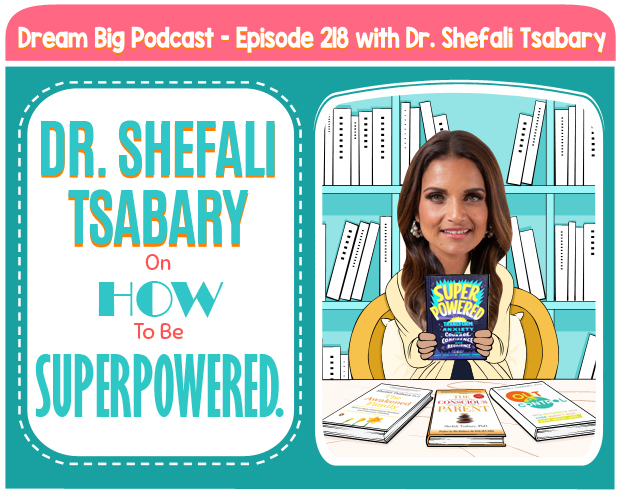 Share this: 
LISTEN TO OUR PODCAST
Subscribe and listen to the DREAM BIG Podcast on:
iTunes  |  Stitcher  |  Google Play Music  |  Soundcloud  |  iHeartRadio  |  Spotify
TODAY'S GUEST
We are over-the-moon thrilled to welcome Dr. Shefali Tsabary to the Dream Big Podcast. We have been following Dr. Shefali's groundbreaking work on conscious parenting for years now. It was such a thrill when we learned that Dr. Shefali had a new book coming out for kids and teens, and was interested in being a guest on the Dream Big Podcast. Dr. Shefali was kind enough to send Eva an advanced copy of Superpowered, so we had a chance to read the book before Eva's chat with Dr. Shefali to prepare for the interview. Needless to say, we loved it and Eva filmed the below testimonial.
I know many of you are already familiar with Dr Shefal's work. Millions have listened to her interviews with Oprah, watched her keynotes on the world's biggest stages, and read her numerous New York Times best-selling books including, "Conscious Parenting." Even with Dr. Shefali's successful career as a writer and author, she continues to practice clinical psychology with individuals and families.
In our humble opinion, this episode with Dr. Shefali is one of Eva's best interviews yet — and we hope that all the Big Dreamers enjoy Dr. Shefali and Eva's discussion about Wista The Worrier, Flipping The Switch, the POWER acronym and so many other tools and strategies laid out in Dr. Shefali's new book Superpowered. Be sure to support the launch by getting your copy today!
WHAT YOU'LL LEARN
What it means to be a "clinical psychologist." 

What the POWER acronym stands for, and how we were all born with superpowers.

Why so many of us lose our super powers as we get older, and what we can do to regain them! 

Who is Wisty the Worrier, and how naming a worry character can help you deal with stress and anxiety.

The "Flip The Switch" analogy and how we can use it when we find ourselves comparing ourselves with others. 

The  difference betweens things you can control and things outside of your control, and how that relates to the COVID pandemic.

And so much more!
RESOURCES
Not sure where to get started?
It is as easy as 1, 2, 3.
Step 1 – Enjoy These FREE Resources:
Step 2 – Subscribe To The Dream Big Podcast
Step 3 – Connect With Our Community
Share With Eva How The Dream Big Podcast Has Impacted Your Family's Life. Eva Will Respond With A Personalized Video Message 🙂