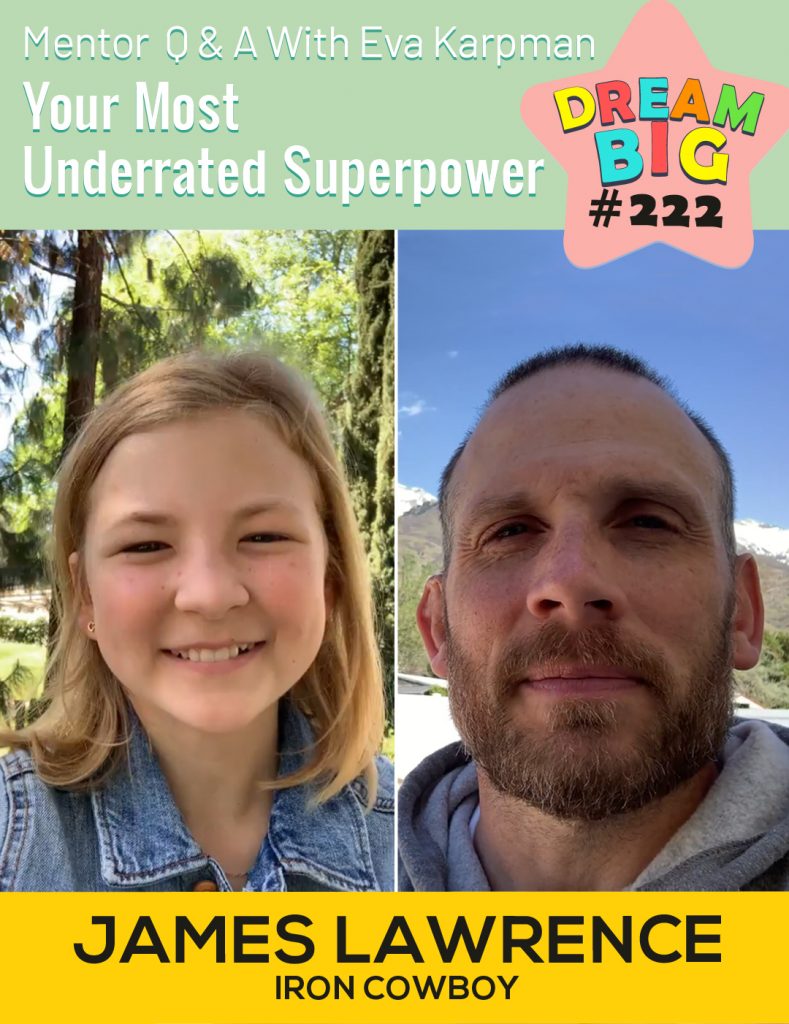 Share this: 
LISTEN TO OUR PODCAST
Subscribe and listen to the DREAM BIG Podcast on:
iTunes  |  Stitcher  |  Google Play Music  |  Soundcloud  |  iHeartRadio  |  Spotify
SOLO EPISODE FROM EVA
The Iron Cowboy is back on the Dream Big Podcast! James Lawrence earned his nickname by completing 50 Ironman distance triathlons, in 50 days, in each of the 50 United States. A single Ironman alone is an incredible accomplishment — as it consists of a 2.4-mile (3.86 km) swim, a 112-mile (180.25 km) bicycle ride and a marathon 26.22-mile (42.20 km) run, raced in that order and without a break. To do 50 Ironman races in 50 days across 50 days seemed unthinkable, until James did just that in 2015.
James posted the following quote on his Instagram earlier this year: "Tolerance for Monotony is a very underrated superpower." Eva asked us what the quote meant, and we said: "Well you know James! Why don't you ask him directly?" And that's exactly what she did, and James was kind enough to answer 🙂 James starts his anwer by defining the word "monotony" (as we are sure that a lot of the younger Big Dreamers may not have even heard the word "monotony" before), and then shares how he would have never completed the 50-50-50 and become the Iron Cowboy without learning to embrace monotonous training. Eva also shares her thoughts in this episode as to why monotonous tasks are so important to achieving your big dreams in life. Thank you James for answering Eva's question, and by extension sharing this very underrated superpower with the Big Dreamers!
RESOURCES
Not sure where to get started?
It is as easy as 1, 2, 3.
Step 1 – Enjoy These FREE Resources:
Step 2 – Subscribe To The Dream Big Podcast
Step 3 – Connect With Our Community
Share With Eva How The Dream Big Podcast Has Impacted Your Family's Life. Eva Will Respond With A Personalized Video Message 🙂