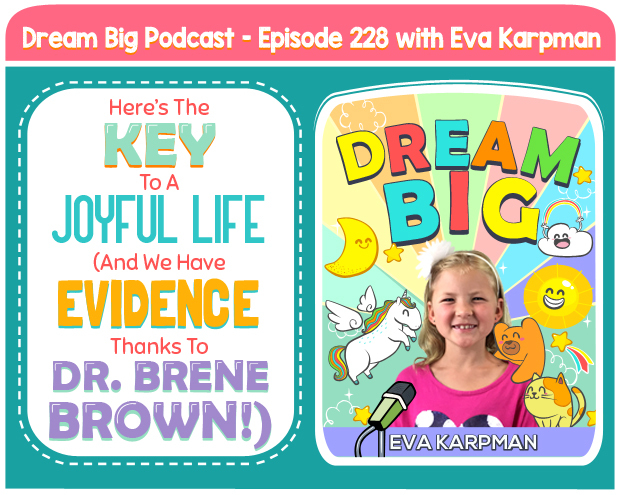 Share this: 
LISTEN TO OUR PODCAST
Subscribe and listen to the DREAM BIG Podcast on:
iTunes  |  Stitcher  |  Google Play Music  |  Soundcloud  |  iHeartRadio  |  Spotify
SOLO EPISODE FROM EVA
Since we just celebrated the holiday of Thanksgiving here in the United States, we thought this would be the perfect episode to talk about the central theme of Thanksgiving.  Giving Thanks!  In other words, Gratitude.  This is a subject that legendary researcher Dr. Brene Brown has conducted a ton of research on — and in this episode, Eva shares a life-changing finding from one of Dr. Brown's studies which spanned 12 years with over 11,000 pieces of data.   
Specifically, Dr. Brown did not interview a single person who would describe themselves as joyful who did not actively practice gratitude.   The key word there is practice.  In this episode, Eva shares the importance of incorporating a gratitude practice into your daily routine, and shares the gratitude practice that our family has done daily for over 12 months now.   I think we all knew intuitively that gratitude was central to our happiness, but thanks to Dr. Brene Brown we now have scientific evidence that a gratitude practice is the key to a joyful life.   
Speaking of gratitude, there's no time more fitting to express our sincere appreciation for your support of Eva's podcast.  We are deeply thankful and extend to all you Big Dreamers our best wishes for a happy and healthy holiday season.
RESOURCES
Not sure where to get started?
It is as easy as 1, 2, 3.
Step 1 – Enjoy These FREE Resources:
Step 2 – Subscribe To The Dream Big Podcast
Step 3 – Connect With Our Community
Share With Eva How The Dream Big Podcast Has Impacted Your Family's Life. Eva Will Respond With A Personalized Video Message 🙂