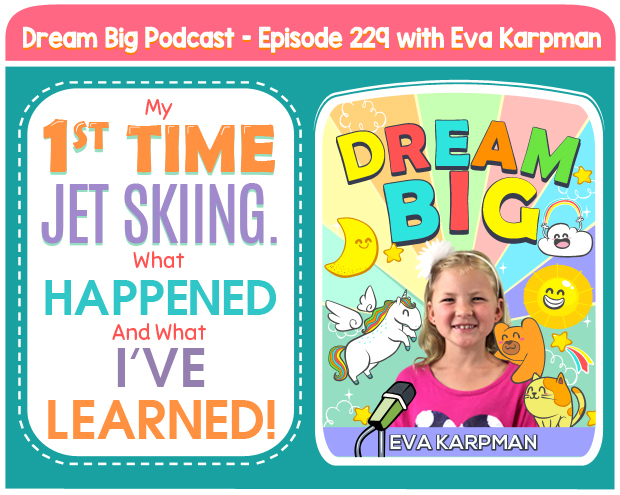 Share this: 
LISTEN TO OUR PODCAST
Subscribe and listen to the DREAM BIG Podcast on:
iTunes  |  Stitcher  |  Google Play Music  |  Soundcloud  |  iHeartRadio  |  Spotify
SOLO EPISODE FROM EVA
A few months ago, the family of Eva's best friends Sienna and Cayenne got jet skis. Sienna and Cayenne have been telling Eva about their weekends at the lake, and how much fun the entire family has been having with their new toys. In turn, we've been hearing non-stop from Eva about how much she wants to jet ski. We had the opportunity over Thanksgiving weekend to rent a jet ski and needless to say, Eva jumped on the opportunity 🙂
In this week's episode, Eva shares the story of her experience, as well as the important life lessons she learned which of course are equally applicable to all Big Dreamers. Based on how much Eva loved jet skiing and how determined this young lady can be, we have a feeling this will not be the last you will be hearing about Eva's jet skiing adventures.
RESOURCES
DB 120: I'm not nervous…. I'm EXCITED
Not sure where to get started?
It is as easy as 1, 2, 3.
Step 1 – Enjoy These FREE Resources:
Step 2 – Subscribe To The Dream Big Podcast
Step 3 – Connect With Our Community
Share With Eva How The Dream Big Podcast Has Impacted Your Family's Life. Eva Will Respond With A Personalized Video Message 🙂