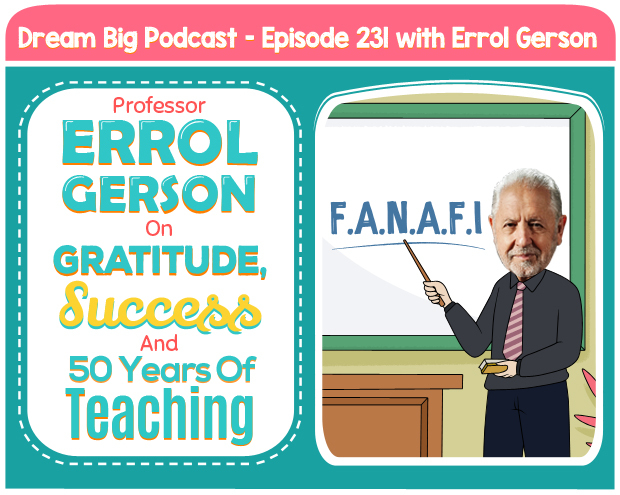 Share this: 
LISTEN TO OUR PODCAST
Subscribe and listen to the DREAM BIG Podcast on:
iTunes  |  Stitcher  |  Google Play Music  |  Soundcloud  |  iHeartRadio  |  Spotify
TODAY'S GUEST
We are so thrilled to introduce Errol Gerson to all you Big Dreamers. Errol is the grandfather of Eva's best friend Gianna, and a dear family friend. He also has just reached the remarkable milestone of teaching for 50 years at the ArtCenter College of Design. From his career as an entrepreneur, businessman and professor, Errol is uniquely qualified to share with our Big Dreamers the patterns of success over his incredible life. Errol was born in South Africa during Apartheid and shares with Eva why he immigrated to the United States and the hope he has for our future. Errol also happens to be the King of acronyms, and teaches a few of his favorite business acronyms to Eva (and by extension all you Big Dreamers) during their fascinating conversation.
WHAT YOU'LL LEARN
How Errol got into teaching and how he's been able to teach even with full time positions at other jobs.
What Errol teaches at the ArtCenter College of Design.
The amazing accomplishments of some of Errol's past students at the ArtCenter.
Errol explains the meaning of his business acronyms, FANAFI, Find A Need And Fill It and FAIL, First Attempt In Learning.
Some patterns Errol has noticed in his students that are successful in achieving their big dreams.
Errol shares the 4 key things you need to have in order to succeed.
Errol on why dreamers are the people who change the world.
Why gratitude is such an important emotion, and Errol shares a story about the power of gratitude.
Errol shares his experience when he was in South Africa during apartheid, and why he decided to immigrate in America.
Errol's Big Dream for the future.
And so much more!
RESOURCES
Not sure where to get started?
It is as easy as 1, 2, 3.
Step 1 – Enjoy These FREE Resources:
Step 2 – Subscribe To The Dream Big Podcast
Step 3 – Connect With Our Community
Share With Eva How The Dream Big Podcast Has Impacted Your Family's Life. Eva Will Respond With A Personalized Video Message 🙂