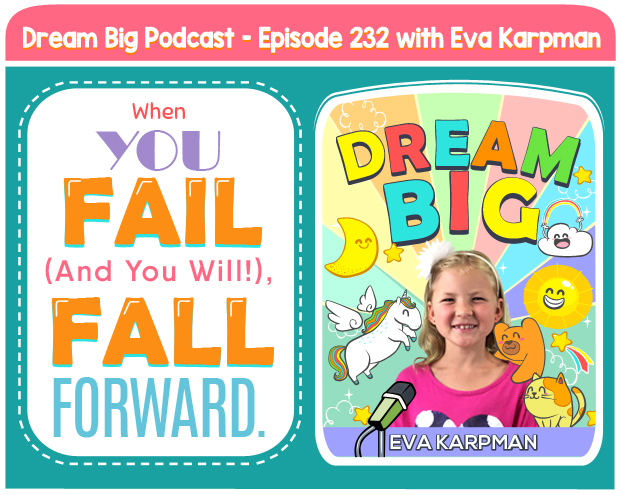 Share this: 
LISTEN TO OUR PODCAST
Subscribe and listen to the DREAM BIG Podcast on:
iTunes  |  Stitcher  |  Google Play Music  |  Soundcloud  |  iHeartRadio  |  Spotify
SOLO EPISODE FROM EVA
Eva talks a lot about success on the Dream Big Podcast, and she has interviewed many of the most successful people on the planet from Mark Cuban to General Stanely McCrystal and Mel Robbins. But one common pattern that Eva has noticed from all of her incredible guests is that they readily admit to countless failures along their journey to achieving their big dreams.
We stumbled across a commencement address that Denzel Washington delivered at the University of Pennsylvania in 2011, where he eloquently shared that the way to fail is to fall forward, not backwards. In this episode, Eva shares a number of powerful examples from Denzel's speech, and also how she literally learned the importance of falling forward and not backwards when she learned how to ride a unicycle this summer.
Eva encourages all Big Dreamers to push outside their comfort zone as we enter a new year in 2021. Yes, you will fall along the way, but remember to fall forward and you will get back up and keep on moving forward towards your dreams.
RESOURCES
Denzel Washington Commencement Speech
Not sure where to get started?
It is as easy as 1, 2, 3.
Step 1 – Enjoy These FREE Resources:
Step 2 – Subscribe To The Dream Big Podcast
Step 3 – Connect With Our Community
Share With Eva How The Dream Big Podcast Has Impacted Your Family's Life. Eva Will Respond With A Personalized Video Message 🙂