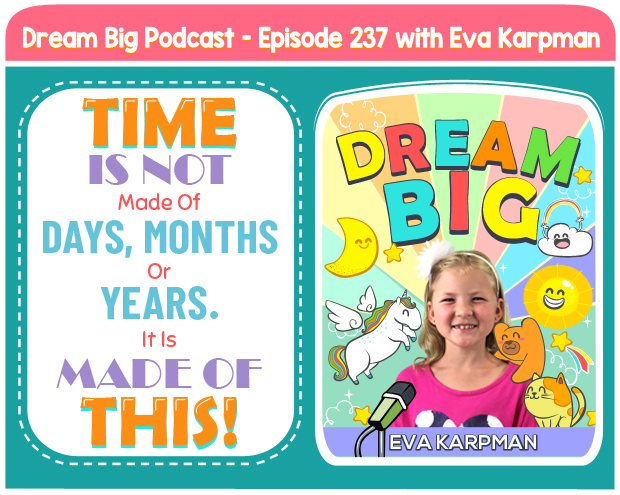 Share this: 
LISTEN TO OUR PODCAST
Subscribe and listen to the DREAM BIG Podcast on:
iTunes  |  Stitcher  |  Google Play Music  |  Soundcloud  |  iHeartRadio  |  Spotify
SOLO EPISODE FROM EVA
We just had one of the most incredible weekends visiting our cousins in the San Bernardino mountains during a winter snowstorm. It was a short trip. We left our house Saturday morning and were back home before dark on Sunday. But when we pulled up to our driveway Eva said: "We were only gone for a day?! It felt like we were gone for a week!!" It was the same number of hours that we had the weekend prior, but we did 10X more! As an added bonus, we enjoyed many first-time experiences thanks to the snowstorm and our cousin's incredible homestead, which made the weekend's activities that much more significant.
In this episode, Eva shares many fun stories from our magical weekend, from sledding at night to holding baby goats to learning how to sew. And Eva shares how all Big Dreamers can slow down time by designing magical moments with your loved ones. Be sure to check out our cousins instagram @purely.living.homestead to learn more about farm animals and gardening – and thank you for a weekend filled with countless memories that we will never forget!
RESOURCES
Purely.living.homestead on Instagram
Not sure where to get started?
It is as easy as 1, 2, 3.
Step 1 – Enjoy These FREE Resources:
Step 2 – Subscribe To The Dream Big Podcast
Step 3 – Connect With Our Community
Share With Eva How The Dream Big Podcast Has Impacted Your Family's Life. Eva Will Respond With A Personalized Video Message 🙂