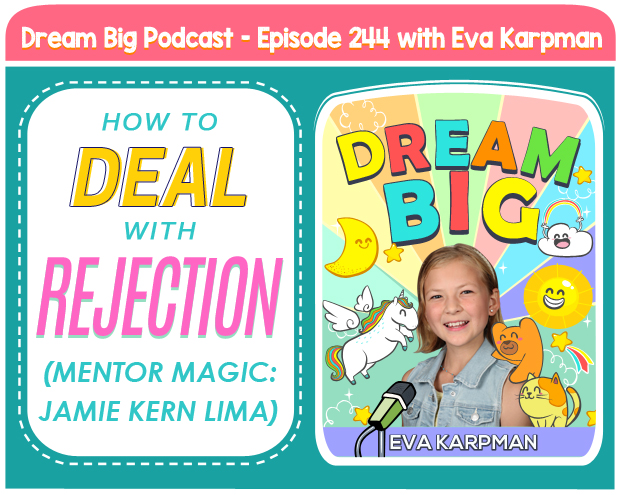 Share this: 
LISTEN TO OUR PODCAST
Subscribe and listen to the DREAM BIG Podcast on:
iTunes  |  Stitcher  |  Google Play Music  |  Soundcloud  |  iHeartRadio  |  Spotify
SOLO EPISODE FROM EVA
Jamie Kern Lima is a self-made entrepreneur, champion of women, philanthropist, keynote speaker and co-founder of IT Cosmetics.  Jamie is on a book tour right now for Believe It – How to Go from Underestimated to Unstoppable.  We've watched many of her interviews, and were so inspired by Jamie's story that Eva decided to create an episode about her remarkable journey from a Denny's waitress to the CEO of a billion dollar makeup brand, IT Cosmetics.
Of course, when you hear a rags-to-riches story like Jamie's, many assume that the success came overnight.  But Jamie is very transparent about the years of rejection and challenges she and her husband experienced before they enjoyed any success.  In this episode, Eva shares Jamie's philosophy on dealing with rejection and how she was able to keep on pushing towards her big dreams, even when she only had $1000 left in her bank account. 
Thank you Jamie Kern Lima for sharing your remarkable story, and now for inspiring so many young Big Dreamers to believe in themselves even in the face of rejection.
RESOURCES
Not sure where to get started?
It is as easy as 1, 2, 3.
Step 1 – Enjoy These FREE Resources:
Step 2 – Subscribe To The Dream Big Podcast
Step 3 – Connect With Our Community
Share With Eva How The Dream Big Podcast Has Impacted Your Family's Life. Eva Will Respond With A Personalized Video Message 🙂